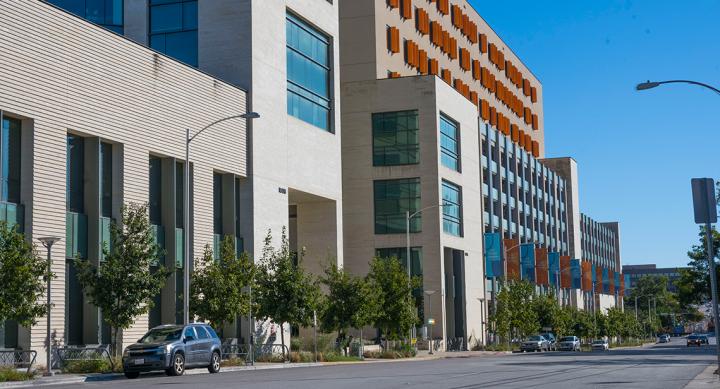 Last week, The University of Texas System Board of Regents announced an exciting new healthcare initiative that will greatly benefit the College of Pharmacy, University and community at large. Where the Erwin Center currently stands will transform into a world-class academic medical center for education, research and patient care.
The University of Texas at Austin Medical Center will start with The University of Texas MD Anderson Cancer Center and a UT Austin hospital. MD Anderson is the country's top cancer hospital, and will expand into Austin, creating new learning, training and research opportunities for College of Pharmacy students and faculty. The former Longhorns basketball arena will be demolished by fall 2024, and it is anticipated that groundbreaking for the hospitals should begin in 2026.
"Embedding a medical center in an integrated, interdisciplinary research environment will advance the discovery of innovative therapies and will accelerate the delivery of optimal care for disease prevention and treatment on a large scale," says Sam Poloyac, dean of The University of Texas at Austin College of Pharmacy. "The college embraces the creation of this collaborative epicenter with the focus on making a meaningful impact on the communities that we serve to improve the health of Texas and the world."
While this new initiative offers amazing benefits and opportunities for the entire Central Texas community, for the College of Pharmacy in particular, it brings new possibilities in advancing the experience and resources of our students, faculty, staff and postdoctoral fellows. With a brand-new medical center and top performing cancer center, student pharmacists find even more prospects to expand their horizons, gain new experiences and develop their training as future pharmacists. For graduate students, research faculty and postdocs, the new facilities bring an ability to expand their research resources. Faculty, graduate students and postdoctoral fellows, particularly whose research focuses on cancer, will see their horizons expand.
"Healthcare is a consistently collaborate effort, and providing world-class opportunities to our college community at a world-class health care institution will benefit the University as a whole," says Poloyac. "Texas Pharmacy is one of the top pharmacy schools in the nation, and I'm excited at the possibilities that arise when we combine our efforts with the top cancer center in the country and a world-class specialty hospital."