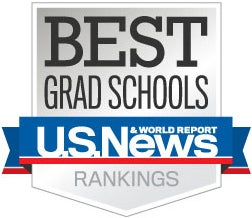 U.S. News & World Report recently released its 2018 rankings for colleges, universities, and higher education programs across the nation. The University of Texas at Austin College of Pharmacy remains the third best pharmacy school in the United States, solidifying its place as one of the top pharmacy schools in the country.
The rankings are determined solely on the results of peer assessment surveys sent to deans, other administrators and/or faculty at accredited degree programs or schools in each discipline. UT Austin earned a stellar 4.4 score on a 1 to 5 scale.
"As the link between patients and medicine," says U.S. News & World Report, "pharmacists must be experts on prescription drugs and over-the-counter medications, understanding use, side effects and mixtures of medicine." As the UT College of Pharmacy continues to grow, evolve, and adapt to changes and innovations in the world of pharmacy, it continually strives to serve its students through challenging course work, accomplished faculty, and continual administrative support.
Since the ranking is determined by the overall reputation of the college by experts in the field, it represents a badge of honor for all students, faculty, alumni, and staff who work hard to provide the best pharmacy education experience available.
Go to the Best Pharmacy Programs rankings to see how UT Austin stacks up against its peer institutions.