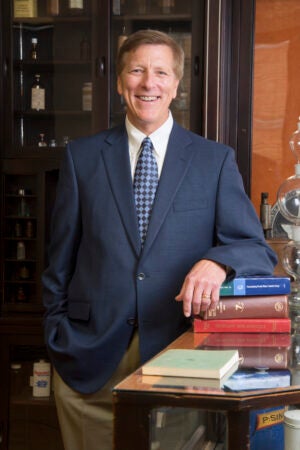 On Thursday, November 2, 2017, Robert O. (Bill) Williams III, Ph.D., professor and head of The University of Texas at Austin College of Pharmacy's Division of Molecular Pharmaceutics and Drug Delivery, was named the 2017 Inventor of the Year by the university's Office of Technology Commercialization. The prestigious award honors a researcher whose discoveries have made a significant impact in commercialized technologies. Dr. Williams commands an impressive list of 35 issued and pending patents in the fields of drug delivery, processing, and biotechnology.
In addition to his work as professor and division head, Dr. Williams holds the Johnson & Johnson Centennial Chair. His research interests include development of novel drug delivery systems for oral, pulmonary, nasal, injectable, buccal, and topical administration as well as the development of novel particle engineering technologies. His research devotes significant effort to enhance drug solubility and dissolution through novel technologies, including thin film freezing and precipitation processes, and thermal processes.
In addition to his long list of patents and patent applications, he has also cofounded several pharmaceutical companies. He was elected Fellow of the American Association of Pharmaceutical Scientists (AAPS) in 2006 and Fellow of the American Institute of Medical and Biological Engineering in 2008. He has been a member of AAPS since its inception, along with other numerous professional societies.
Dr. Williams has published over 400 peer-reviewed research articles, reviews, abstracts, and book chapters, and co-edited two books in the fields of pharmaceutical technology and drug delivery, including Formulating Poorly Water Soluble Drugs, Second Edition (AAPSPRESS and Springer). Dr. Williams is the Editor-in-Chief of AAPS PharmSciTech and was Editor-in-Chief of Drug Development and Industrial Pharmacy (Taylor & Francis) from 2000 to 2014.
Currently, Dr. Williams is on the Editorial Advisory Board of The Journal of Drug Delivery Science and Technology (Elsevier), and serves as a reviewer for numerous other journals. He earned a B.S. in Biology from Texas A&M University, a B.S. in Pharmacy and Ph.D. in Pharmaceutics from The University of Texas at Austin. Dr. Williams worked nine years in the pharmaceutical industry in the United States and France before returning to UT Austin in 1995.
The Office of Technology Commercialization at The University of Texas at Austin honored Dr. Williams during its 7th Annual Inventor of the Year Award Ceremony on November 2. College of Pharmacy dean, M. Lynn Crismon, introduced Dr. Williams during the ceremony.