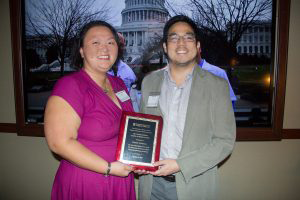 "During this age of reconnecting with friends of the past through social networks, it's nice to know I can connect on a more personal level with my colleagues through the Alumni Association. I love being a part of the UT COP Alumni Association so I can stay connected and hopefully inspire others to get involved. Being a part of the association has allowed me to make connections with other UT COP alumni. The individuals I have met through the Alumni Association have not only been invaluable resources to me in our small world of pharmacy but have also become cherished friends. For me, it's personal. I would love to get to know more of you too."

– Connie Gelineau (Pharm.D.'07, Life Member
Purpose
The College of Pharmacy Alumni Association works uniquely for and on behalf of pharmacy graduates. The purpose of the Alumni Association is to:
Strengthen the College of Pharmacy alumni network and provide opportunities for alumni engagement through university events, professional development activities and philanthropy

Promote and support the College of Pharmacy

Recognize achievements of students, faculty and graduates of the College of Pharmacy

Provide programmatic support for College of Pharmacy students
Membership
Any graduate of the College of Pharmacy may become an active member of the Alumni Association upon application and payment of dues. Any person not a graduate of the College of Pharmacy may become an associate member upon application and payment of dues. Associate members will enjoy all the benefits of active membership except voting. Any person who has rendered distinguished service to the College of Pharmacy may be elected as an honorary member by a majority vote of the Executive Council.
Membership Levels:
Membership dues support activities such as regional alumni events, New Student Orientation, and Homecoming Weekend. Your dues also help us achieve the margin of excellence that sets a degree from the College of Pharmacy a step above others. Benefits include:
Savings on the annual alumni dinner and awards reception

Voting privileges on officers and other governance issues

Invitations to regional alumni events

Knowing you are supporting student programs

Ensuring you are updated on the latest alumni news and events
To pay dues by mail, send checks to:
College of Pharmacy
The University of Texas at Austin
ATTN: Development and Alumni Relations
2409 University Avenue, Stop A1900
Austin, TX 78712
Executive Council
The Executive Council is the governing body of the College of Pharmacy Alumni Association.
It is comprised of the president, president-elect, secretary-treasurer, immediate past president, at least one at-large representative elected by the membership, and regional representatives from Austin, San Antonio, Dallas/Fort Worth, the Rio Grande Valley, Greater Houston and West Texas.
Executive Council members agree to:
Serve as ambassadors of the College of Pharmacy to fellow alumni, current and prospective students, colleagues, friends and the general public;

Collaborate with College of Pharmacy administrators, faculty and students on policies and programs that impact alumni;

Participate actively in Executive Council discussions and initiatives;

Attend the spring and fall Executive Council meetings and participate in additional meetings by telephone or video conferencing as needed;

Give at a personally meaningful level

 

to the College of Pharmacy.
If you are interested in applying for a position on the Executive Council, please contact the Alumni Relations office.