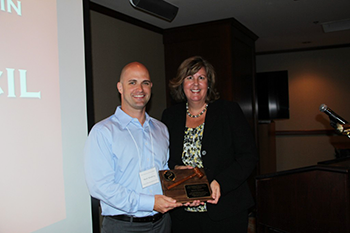 Established in 1950, The University of Texas at Austin College of Pharmacy Advisory Council is comprised of distinguished alumni and friends who share a commitment to quality pharmacy education and research.
Because of the dedicated leadership, service, and financial support of these many volunteers, the College continues to maintain its reputation as one of the preeminent schools of pharmacy in the nation.
Advisory Council Bylaws
Chair

Dr. Jeff Warnken
Vice-Chair

Mrs. Debbie Garza
Emeritus Members

Mr. Ron Gieser

Mr. Tim Vordenbaumen
Ex-officio Members

Dr. Samuel M. Poloyac
Dean
James T. Doluisio Regents Chair
Antonio Burns, MBA
Chief Development Officer

Dr. Cat McCormack
President, College of Pharmacy Alumni Association

Travis Henry
Senior Alumni Relations Program Coordinator
Active Members

Dr. Daniel Acosta, Jr.

Mr. Fred Brinkley

Dr. Benée Brown

Dr. Rannon Ching

Dr. James DiNunzio

Ms. Sandra Guckian

Ms. Barbara Sublett Guthery

Dr. Robert Hauser

Dr. Eric Ho

Dr. Jobby John

Dr. Kris Klein-Bradham

Mr. Jan Klinck

Dr. John Koleng

Dr. Benjamin McNabb

Mr. Craig Norman

Mr. George Polansky

Dr. Isidro Ramirez, Jr.

Ms. Marissa Schlaifer

Mr. James Smeeding

Mrs. Tina Stavinoha

Dr. Rema Thyagarajan
Dr. Michael Tortorici

Mr. Daniel Vela
Make a gift
All gifts to the College of Pharmacy are tax-deductible, and there are many ways that you can make a contribution.