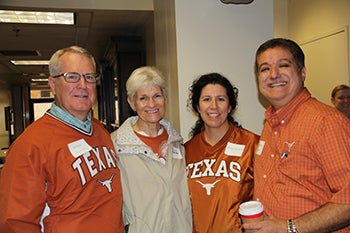 The Leadership Circle is for recognizing annual donors who make gifts of $2,000 or more during a fiscal year. Gifts can be made to any College of Pharmacy fund.
Becoming a member of the Leadership Circle will include invitations to special College of Pharmacy events, updates from the Dean, as well as additional communications. We are grateful for our donors!
Areas of Greatest Need
Student Support Fund
P1 Recruitment Scholarships
Contact us
Interested in learning more? Contact the UT Austin College of Pharmacy Development Office:
Senior Director of Development, Brynn Huysman 
Email: brynn.huysman@austin.utexas.edu 
Phone: 863-227-6094
Make a gift
All gifts to the College of Pharmacy are tax-deductible, and there are many ways that you can make a contribution.