Pharm.D. students looking for educational stimulation and challenge beyond the traditional curriculum are invited to participate in the College's Honors Program. This selective program challenges participants by introducing them to new ideas and placing them in contact with others of similar aptitude. Honors Program students participate in research projects with faculty mentors, and present their results at college seminars. Many of these students also present their results at national meetings and in peer-reviewed journal articles.
Candidates for the Pharm.D. Honors Program can be admitted to the program no earlier than the spring semester of the P2 year, and no later than the fall semester of the P3 year.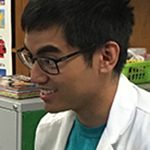 "The Honors Program has been invaluable experience for me. It has given me the opportunity to work very closely with an amazing professor, and it has allowed me the freedom to acquire the research experience that has the potential to make a real difference both in the world as well as my career path while allowing me to balance classes, studying, and extracurricular activities."
–JP Sanchez, Class of 2018
Read more from JP Sanchez and other students at Student Talk.
Admission criteria
Candidates for the Pharm.D. Honors Program can be admitted to the program no earlier than the Spring semester of the P2 year, and no later than the Fall semester of the P3 year
Admission to the professional pharmacy sequence
A grade point average (GPA) of at least 3.00 on a 4.00 scale in all required pharmacy coursework completed at the time of application to the program
Approval by the Honors Program Committee
Seminar Series
Each honors student also is given an opportunity to present his or her research project to a varied audience whose members might consist of fellow honors students, interested pharmacy students, pharmacy faculty members, and other invited guest from the academic as well as non-academic communities.
Honors students will be encouraged both to publish their project in a refereed journal and present their work at meetings of national organizations such as the American Pharmaceutical Association, the American Association of Pharmaceutical Scientist, and the American Society of Hospital Pharmacist.
Graduation with Special Honors
Students completing the Pharm.D. Honors Program with a cumulative 3.00 GPA will be candidates for graduation with special honors.
This GPA must be maintained in all required pharmacy courses as well as in all other pharmacy courses including those elective courses that are approved for pharmacy elective credit offered outside the college.
Please contact the Program Director, Dr. Kevin Dalby (dalby@austin.utexas.edu), for further clarification or questions.