Members of The University of Texas at Austin College of Pharmacy Alumni Association board have selected the winners of this year's Alumni Awards. The 2023 recipients will be recognized on Saturday, November 4, 2023 at the college's Texas Pharmacy Homecoming Tailgate, generously sponsored by H-E-B.
---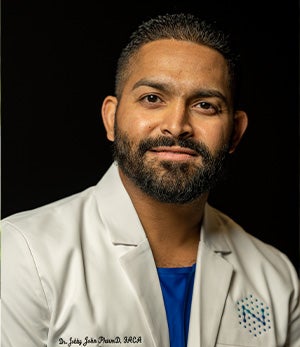 Dr. Jobby John
2023 Distinguished Young Alumnus Award Recipient
Dr. Jobby John is a distinguished figure in pharmacy practice, known for his innovation and dedication to patient care. By founding Lake Hills Compounding Pharmacy and Wellness Center in Austin, Texas, at just 26, he secured his place as one of the U.S.'s youngest pharmacy owners. An esteemed graduate of The University of Texas College of Pharmacy (2013), Dr. John's work at Lake Hills emphasizes the importance of compounding in crafting individualized care. This dedication to tailoring solutions extends to his venture, Nimbus Healthcare. As a digital platform, Nimbus integrates advance technologies like AI and data analytics to revolutionize patient care, making personalized medicine both accessible and affordable.
Earning recognition as a fellow of the American College of Apothecaries and the president-elect of Texas Pharmacy Association, Dr. John's career epitomizes the evolution of pharmacy: blending traditional wisdom with cutting-edge technology.
---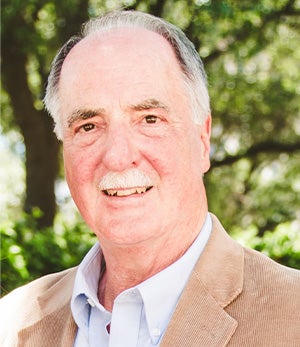 Mr. George A. Polansky, Jr.
2023 Legend of Pharmacy Award Recipient
George Polansky comes from a heritage of University of Texas pharmacists. His dad and uncle were UT Pharmacy graduates in the 1930s. With his personal experiences at UT, George realizes and appreciates that the College of Pharmacy is not only a pillar of education but also an institution that cares about its students. George graduated from the UT College of Pharmacy in December 1971.
George has been a pharmacist in retail settings for over 50 years. During these years he took over his father's pharmacy and then worked in chain retail. He was with Albertsons for over 30 years and 17 plus years with Walmart. At Albertsons, George held multiple responsibilities including Director of Pharmacy. At Walmart, his duties included manager and area manager.
George has served on several boards, including the Texas Federation of Chain Drug Stores and the Texas Workers' Compensation Commission's Medical Advisory Committee. George helped implement the "HER Program" (Health Education Resource) program and Speaking of Women's Health, national women's health programs partnering with Proctor and Gamble, Cooper Aerobic Clinic, Susan Komen Foundation and others in Texas. George piloted for the Texas State Board of Pharmacy a prescription vending machine program. He wrote the standards and controls for the board as well as oversaw the implementation and operation of the machine in the pharmacy.
George is a member of several groups at the UT College of Pharmacy, including the Dean's Advisory Council, Student Financial Aid Committee and Campaign Steering Committee.
George is also a member of the UT Chancellor's Council and the UT Leadership Society. The College of Pharmacy featured George in their Twelve in 12 campaign and he was also a preceptor.
 
---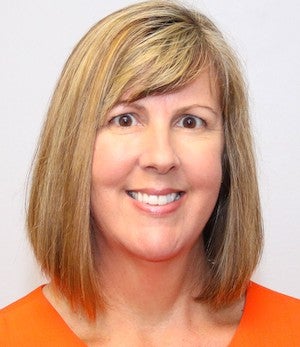 Mrs. Debbie B. Garza, R.Ph. 
2023 William J Sheffield Outstanding Alumnus Award Recipient
Debbie Garza joined the Texas Pharmacy Association (TPA) as Chief Executive Officer in August 2017. A business-savvy executive with keen strategic vision and a passion for pharmacy, Debbie is a skilled communicator who explains complex policy issues clearly and concisely with the prowess to change mindsets and build positive public sentiment for the pharmacy profession.
Debbie has significant accomplishments in government relations, public policy and operations in pharmacy, health care and retail. She possesses hands-on knowledge of legislative, regulatory and political processes and is well-versed in Medicare Part D, Medicaid and pharmacist scope of practice. She has been intimately involved with drug payment policy, delivery system reform and a broader role for pharmacists.
Prior to joining TPA, Debbie spent more than three decades with Walgreens, advancing through the company while taking on higher roles with increased responsibilities culminating as Divisional Vice President of Government and Community Relations. In that role she built the Government and Community Relations department and led federal, state and local government affairs, public policy, pharmacy affairs working with state boards of pharmacy nationwide and community relations. She opened and ran Walgreens' Washington, D.C. office and served as chief lobbyist for the organization.
Debbie received a B.S. in pharmacy from The University of Texas at Austin. Having been a mentor throughout her career, Debbie enjoys mentoring pharmacists and helping to shape the next generation of pharmacy leaders.
---
Congratulations to all the winners! You can honor the recipients personally at this year's Pharmacy Homecoming Tailgate.