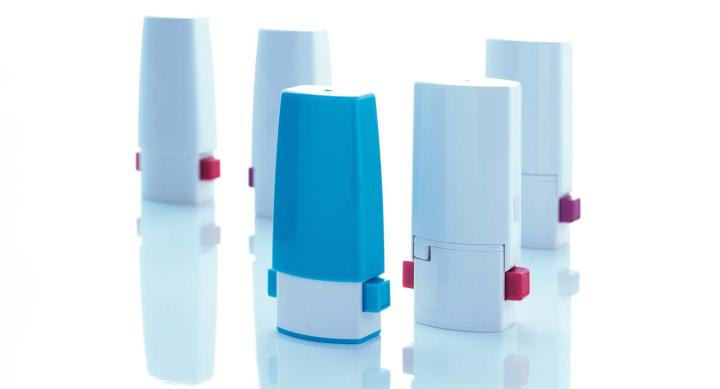 Many of us will remember that early in the pandemic, groundbreaking medicines that transformed COVID-19 treatment were hard to come by. The driving reason was that these therapies, including mRNA vaccines and monoclonal antibodies, are "biologic-based" and often unstable at room temperature. As a result, mRNA vaccines must be stored in ultra-cold freezers, sometimes discarded at the end of the day after reconstitution and monoclonal antibodies require a hospital setting for administration and cannot be taken at home.
Access to these therapies has improved since the start of the pandemic but remains a challenge. Limitations in formulating other biologics like cell and gene therapies have stymied innovation in those areas as well. Researchers in the lab of Dr. Robert O. (Bill) Williams III, Division Head and Professor of Molecular Pharmaceutics and Drug Delivery at The University of Texas at Austin College of Pharmacy, are advancing an innovative platform technology known as Thin Film Freezing, which could revolutionize administration, distribution and access to both vaccines and therapies.
The Thin Film Freezing technology, invented by Dr. Williams and his team and advanced by Fort Worth-based TFF Pharmaceuticals, is developed via a well controlled process that involves rapid freezing and drying drugs into a powder. The technology is unique in that it can convert vaccines and other biological products, which are traditionally delivered in liquid form, into a powder which is more stable at room temperature, eliminating the need for ultra-cold-chain refrigeration and making medicines more globally accessible by overcoming logistical challenges in distribution. The technology has broad applicability across therapeutic areas, including great potential for treating infectious diseases like COVID-19.
Thin Film Freezing formulations can be injected like today's mRNA vaccines, but also have the advantage of being inhaled or delivered intranasally, which does not require health care professionals for administration. Intranasal formulations offer yet another advantage by directly targeting the mucosal system, tapping into key mechanisms that trigger immune defense at the gate where viruses enter the body to neutralize the virus at its source more quickly.
"Oral therapies for conditions meant for the lung and respiratory system, like COVID, are one example of suboptimal drug delivery," Dr. Williams explained. "Administering these drugs in their oral form typically requires a large dose to reach target tissues in organs and can lead to serious side effects that are sometimes life threatening. By targeting the site of need directly, our Thin Film Freezing formulations circumvent toxicity and avoid drug-drug interactions."
Dr. Williams and his lab have accumulated a large body of research – which continues to grow – supporting Thin Film Freezing as a promising technology to convert vaccines and other treatments to inhaled and intranasal forms. The scientists have also published papers and articles that explain how Thin Film Freezing compares to other dry powder drug delivery techniques. Dr. Williams' invention has shown significant advantages as a gentler process for sensitive modalities such as proteins, DNA, mRNA, and other biologics as well as small molecules.
Recent research published on the preprint server bioRxiv showed how Thin Film Freezing could be used to develop dry powder versions of plasmid DNA for optimized delivery to the lungs, while another paper just published in the International Journal of Pharmaceutics showed how the intermediate freezing rate of Thin Film Freezing resulted in reduced denaturation of proteins when compared to spray-freeze drying (SFD) and conventional lyophilization. The minimal shear forces of the process also reduce risks of protein degradation.
Dr. Williams and his team are even applying artificial intelligence and machine learning to improve the efficiency of developing product-specific dry powder formulations. In research presented at this year's American Association of Pharmaceutical Scientists (AAPS) PharmSci 360 Meeting, researchers used a deep learning-based method to estimate aerosol performance based on properties of the powder made by Thin Film Freezing, specifically using image analysis. The poster, along with another poster from Dr. Williams' team demonstrating the successful application of Thin Film Freezing formulations across a number of biologic drugs, including anti-SARS-CoV-2 and anti-PD1 antibodies, was selected as part of the "Special Poster Collections" at the meeting.
All these findings are good news for the future of biologics drug development and could not only support the development of future COVID-19 therapies but also address future pathogens as they emerge. TFF Pharmaceuticals applies this technology to a broad range of treatments, three of which are currently in clinical trials including a dry powder version of niclosamide, a potent antiviral that has proven effective against all COVID-19 variants tested to date. TFF's Inhaled Niclosamide Powder was well tolerated in Phase 1 studies with reduced side effects compared to the oral form of treatment.
In addition to developing therapies in-house, TFF Pharmaceuticals is working with many Big Pharma, academic and CDMO partners and recently opened a new facility in Austin, Texas – located not far from Dr. Williams' lab – which offers additional space to facilitate scale-up and manufacturing of dry powder materials, including for biologics, and to produce supplies for preclinical studies.
"We're thrilled to continue to see scientific progress using the Thin Film Freezing technology platform for various modalities across the treatment landscape through the innovative work of our collaborators at UT Austin," TFF CEO Glenn Mattes commented. "The latest research from Bill and his team continue to demonstrate the versatile applications of Thin Film Freezing for biologics drug development and delivery. We look forward to our continued collaboration and to sharing more data leveraging our platform in the coming years."
While we don't know what future pandemics might look like, based on recent developments in COVID-19 treatment and the government's call for alternative methods to both vaccinate and treat contagious diseases, it's likely inhaled and intranasal therapies will play a role. Thin Film Freezing technology can better equip the industry for future pandemic preparedness and other pathogens or emerging biological threats that may arise. More research from Dr. Williams' lab will be available soon.
News category:
Faculty:
Research areas: