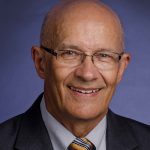 Dr. Carlton Erickson, the Pfizer Centennial Professor of Pharmacology and Toxicology, has been named to life membership by the American Association for the Advancement of Science (AAAS).
In making the announcement, AAAS cited Ericsson's 50 years of membership, beginning in 1967.  He was named an AAAS fellow in 1988.
During his career, Ericsson has had two publications in the organization's journal, Science.  One described a new sustained release implant for alcohol in mice, and the other concerned an effect of cation in altering the effects of alcohol intoxication in rodents.  The second article was co-authored by Dr. Adron Harris, a faculty member in the College of Natural Sciences.
Erickson's current interests involve educating health professionals and the general public about the science of addiction.
AAAS is the world's largest general scientific society.  Established in 1948, it is dedicated to advancing science for the benefit of all people.