What Starts Here Changes the World
Fostering relationships between faculty, staff, and students is an important priority for the Division of Pharmacology and Toxicology. We value diversity and inclusion and want all Division members to feel welcomed and appreciated.
And, we like to have fun! Several social events are held during the year. Recent meetings during the pandemic have taken place via Zoom, but we anticipate going back to in person gatherings in the not-too-distant future.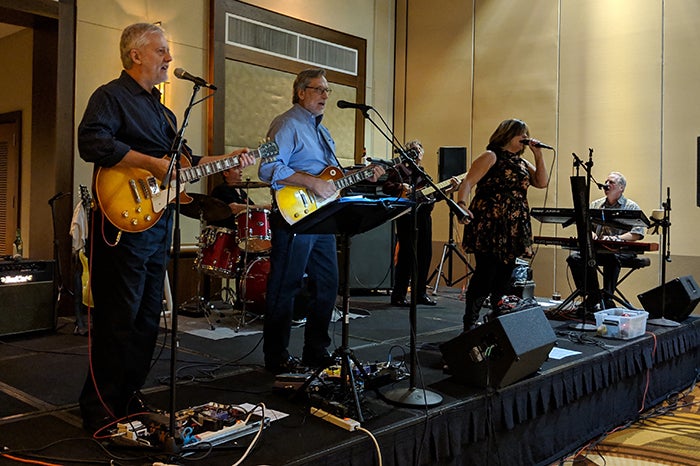 Recurring Events
Environmental and Molecular Mechanisms of Health and Disease Seminar
An invited seminar series in which faculty from the Division of Pharmacology and Toxicology invite leading scientists in the field to present their work. More information and the seminar schedule can be found at the CMCT website.
Coffee with Colleagues
A monthly event held by the Division where faculty, staff, and students are invited to take a welcome mid-day break for conversation, coffee, and cookies.
Division Meet and Greet
An annual event hosted by the Division, to introduce new faculty, staff, and students. Refreshments are provided.
Annual Potluck
An annual luncheon where members of the Division bring in a dish to share.
Pie Day
An annual event held on March 14 (3.14!) where members of the Division bring in a pie of their choice to share.
TG Pharm
A college-wide social networking evening event for faculty, students, and research staff in the College of Pharmacy. Drinks and refreshments are provided.
Celebrating Pharmacy Research Excellence Day
A college-wide annual event highlighting the accomplishments of College of Pharmacy researchers at all levels. Boxed lunches and refreshments are provided.
Seminar Presentation by Dr. Daniel Acosta

On November 3, 2022, Dr. Daniel Acosta, Adjunct Professor, presented "My Career Journey" as part of the Environmental and Molecular Mechanisms Of Health And Disease (EMMHD) seminar series.

The EMMHD seminar features prominent guest speakers from around the nation, presenting current research topics from a wide variety of perspectives within the fields of pharmacology, toxicology, neurology, molecular biology, chemical biology, medicinal chemistry, and more.  The Division of Pharmacology & Toxicology co-hosts the seminar series with the Center for Molecular Carcinogenesis & Toxicology (CMCT).
Division 'Meet and Greet'

After a three-year hiatus due to the pandemic, the Pharmacology and Toxicology Division 'Meet and Greet' was held on October 13, 2022.  Division faculty, staff, research fellows, and students enjoyed food and camaraderie. 

The event was held at the AT&T Hotel and Conference Center on the UT Campus.  Dean Samuel Poloyac, Pharm.D., Ph.D., and Division Head Karen Vasquez, Ph.D., spoke to those in attendance.

 

 

 
Division News
What starts here changes the world. To see how our Division does its part, please view the articles below.