Eligibility Requirements
Eligibility varies according to specific awards.
Students must be registered for classes in the semester the fellowship is awarded.
See the Endowments section below for a complete list of opportunities.
Endowed Graduate Fellowships and Continuing Fellowships
1. A general call for submissions will go out in mid-spring for the following academic year.
2. The application will require a curriculum vita (CV).
A CV is a detailed but brief description of your research goals and a timeline for completion; and must be accompanied by two letters of recommendation.
Applying for Awards
Awards sponsored by the Graduate School and University Co-op:
Students are nominated by members of the College of Pharmacy faculty.
Once the announcement for submissions is made, faculty should direct their nominations to the graduate coordinator.
Once the announcement for submissions is made, students should direct self-nominations to the graduate coordinator.
Matthews Scholarship
Awarded to up to three incoming students who have earned a Pharm.D. or B.S. from an ACPE-accredited pharmacy degree program.
Accepted applicants will be notified of eligibility and asked to apply in the spring semester.
Selection Process
1. Fellowship recipients are selected by the College of Pharmacy Graduate Financial Aid Committee and all decisions are final.
2. Selection may be based on financial need, academic achievement, extracurricular activities, and/or other criteria.
3. Several factors are taken into consideration including, but not limited to, the following:
anticipated graduation date, academic achievement, the personal statement, involvement in student organizations within the College and/or University, research, estimated income and expenses, and unmet need as determined by the Office of Student Financial Services.
Award Process
1. Recipients are notified of selection in late spring.
2. Disbursements vary according to the type and amount of award and will be outlined in the notification letter.
3. Thank you letters are required for all recipients. The award letter will give instructions for sending thank you letters.
B. Berard Matthews Scholarship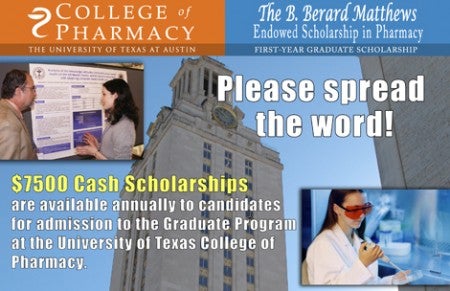 Graduate student applications for the B. Berard Matthews Scholarship will be sent to eligible incoming students after all admission decisions are complete.
Up to three $7,500 scholarships are available annually to candidates for admission to the Graduate Program at the University of Texas College of Pharmacy.
Eligibility
Applicants must be in their fourth professional year of an ACPE-accredited Pharm.D. program,

OR be graduates of an ACPE-accredited pharmacy degree program, either B.S. or Pharm.D.
Individuals applying for entry into the UT-Austin Pharmacy Graduate Program for the first time, and qualified students graduating from the masters program at UT-Austin or other U.S. Colleges of Pharmacy who wish to pursue the Ph.D. degree in Pharmacy are eligible for this program.
Establishment of Matthews Scholarship
The scholarship is made possible from a bequest from the estate of Maebess Matthews, a UT Business School graduate who worked for the UT System for 42 years before retiring in 1976. Provisions of her will established three scholarships at UT Austin – one in the College of Nursing, one in the College of Business, and one at the College of Pharmacy. The gift to the College of Pharmacy honors her father, B. Berard Matthews.
Endowments
American Pharmacies Fellowship in Independent Pharmacy Management
Duane A. Boyle Fellowship in Pharmaceutics
Max and Mary Anne Burlage Fellowship
Dr. Michael and Carrie Crowley and Dr. Jason and Maggie Vaughn Graduate Fellowship
Carl and Eunice Erickson Graduate Endowment
Josefina Lesvia Falcon Graduate Fellowship Fund
Johnson & Johnson Endowed Graduate Fellowship in Pharmacy
Dr. James W. McGinity Graduate Endowment in Pharmaceutics
Pharmacy Administration Graduate Student Endowment
F. Dewitt Reed Graduate Fellowship in Chemical Biology & Medicinal Chemistry
Schering-Plough Research Institute Graduate Fellowship
Dr. Elaine S. Waller Graduate Endowment
Dr. Bill and Jill Williams and Dr. Jim and Kitty McGinity Graduate Fellowship
Dr. Robert J. Wills Graduate Fellowship Endowment
Dr. Feng Zhang and Dr. James McGinity Graduate Fellowship