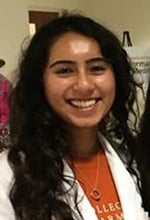 "For my first APPE rotation this summer, I will travel to Lisbon, Portugal as part of the Pharmobility program. Learning how pharmacy functions in a foreign country will help me apply concepts from multiple classes, ranging from antimicrobics to pharmacoeconomics. I look forward to seeing the similarities and differences and also to experiencing everything in a different language. I expect to struggle some with the language barrier, but this hurdle will help me understand the experience of patients whose first language is not English. With pharmacists on the frontline of healthcare, it is important to understand language and cultural barriers. I expect Pharmobility to help me better serve all my patients, regardless of their background."
–Baneen Noorali, Classs of 2018
Read more from Baneen Noorali and other students at Student Talk.
Who is the UT-Pharmobility Program for?
Opportunity for international exchange of pharmacy students (US <-> Europe or Japan) to enhance cooperation and understanding of the similarities and differences in pharmacy education, research, and practice.
Opportunity for our P4 students to study abroad for a summer APPE rotation in a structured program designed to enhance student development and meet the student's specific professional (pharmacy) interests.
International education through exchange programs is now a major emphasis of the University.
Where are the exchanges?
European partners are Bath/UK, Lisbon/Portugal, and Barcelona/Spain. Each of these Universities also sends us their students during the academic year on this official reciprocal exchange program. We continue to work with other international universities and UT's International Office to add additional exchanges (a lengthy process).
What are the experiences provided by the Pharmobility Partners?
Bath University, England
The program at Bath coordinated by Dr. Andrew Thompson includes a variety of experiences in pharmacy practice, including community, hospital, and industrial. Typically the student will spend ~1 week in each setting that is arranged between the student and the sponsor. The UK government also has a requirement that of the experience be on campus with a faculty sponsor to conduct a project. This is typically a comparison of practices between the UK and the US.
University of Barcelona, Spain
Students participating with Barcelona coordinated by Dr. Cecilia Fernandez-Lastra, typically chose a single setting for their experience (e.g., hospital practice). Supplementary components (e.g. national practice governance) can be arranged as well. A basic level of fluency in Spanish is required.
University of Lisbon, Portugal
The program at Lisbon coordinated by Dr. Joao Pinto typically includes a variety of experiences in hospital or community practice, or the pharmaceutical industry. Students will arrange the particular with the sponsor. A basic level of fluency in Spanish or Portuguese is required.
Program Details
How is the Program funded?
College Special Funding from the Matthew's Endowment Travel Stipends at $1,500 to support your travel (provided before departure). Generally, each of our exchange students will be funded with this stipend (but it is contingent on number of students participating and availability).
University funding through travel scholarships (you apply; see the C-GEO website. See the 'funding' tab)
Loans (since you are a registered student, you are eligible for financial aid).
Additional Personal funds (loans, savings, etc).
Most students report a total cost of $3,000-$5,000 for the experience.
What is my student status while traveling?
Students in the Pharmobility Program must be officially enrolled at the University of Texas. This is accomplished for our P4 students by registering for your first (elective) APPE to cover the summer they are abroad. Students must be in good academic standing to participate.
When would I go during the upcoming program year?
P4 (current P3's): Summer of your P4 year (Sum-2017). This counts as your first rotation (elective). Plan ahead!
You are registered as UT students, not registered at the host institution.
University arrangements for the PHARMOBILITY Program (once you are selected) are now made through the International Office.
Applying for the Program & Completing the Program
How do I apply? What happens then?
It is important that you complete and submit the application electronically (pdf). Email the completed form to (patrick.davis@austin.utexas.edu).
DEADLINE for the 2018 Exchange Monday, January 2nd , 2018.
Fill out completely but be judicious with your info; don't just say 'my C.V. is attached' e.g. ASHP membership may be crucial if you want to see how hospital pharmacy is practiced in Spain. Having been in 4H in high school is probably not relevant.
Be as complete and specific as possible as to the type of experience you want to have and how it will impact your future practice. Please do not contact our Pharmobility partners at this point as they find it confusing (they don't know if you have been selected for the program or not). If you need University-specific info, see Dr. Davis.
We and our Exchange Partners will review all applications. If you are "Approved To Proceed…" you will be notified by Dr. Davis.
Coordinators (my counterparts) at European/Japan contact students and help you start making appropriate arrangements).
Language proficiency (if relevant) validated. At that point the student commits to participate.
International paperwork (e.g. visa and all UT requirements) is started and completed through the International Office.
Final assessment of language skills (if necessary) to ensure a sufficient level of fluency.
And when I'm done?
Write and your report; evaluated in collaboration with host institution; grade assigned; complete online evaluation for Program improvement.
Program History
How many students have participated in Pharmobility?
Europe -> UT College of Pharmacy
1 student each year in 2001, 2002, and 2004
2 students each year in 2006 and 2007
3 students each year in 2003, 2005, and 2011
4 students each year in 2008, 2010, 2012
5 students each in 2009
6 students each year in 2012, 2013, 2014, and 2015
5 students in 2015
8 students in 2016
2 students in 2017
UT College of Pharmacy -> Europe
1 student each year in 2004
3 students each year in 2005, and 2006
4 students each year in 2007, 2008, 2011
5 students each year in 2003, 2009, 2010
6 students each year in 2012, 2013, 2014, 2015, and 2016
4 students in 2017
More Information
For further information about the Pharmobility Program, contact Dr. Patrick Davis, Senior Associate Dean who serves as Director of the Program.
Patrick J. Davis, Ph.D.
The University of Texas at Austin, PHR 5.112D
1 University Station, C0850
Austin, TX 78712-0128