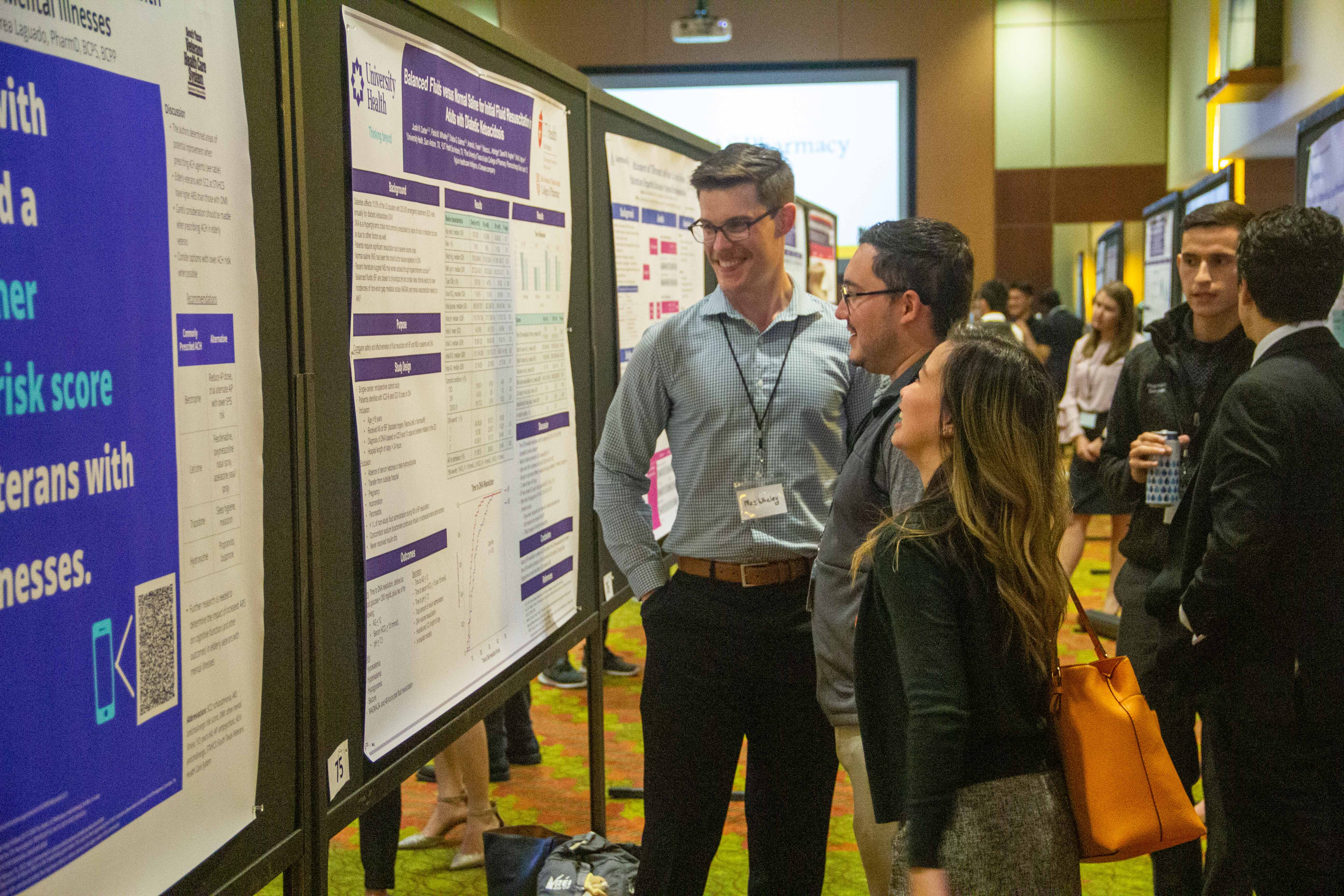 Back (in-person!) and bigger than ever before, the Eighteenth Annual Louis C. Littlefield Celebrating Pharmacy Research Excellence Day was held on Tuesday, April 12, 2022, fetching a record-breaking number of participating researchers and poster presentations. Hosted by the College of Pharmacy's Office of the Associate Dean for Research and Graduate Studies, this annual event highlights the accomplishments of College of Pharmacy researchers at all levels: undergraduate, Pharm.D. and graduate students, postdoctoral fellows and residents, as well as research staff and faculty.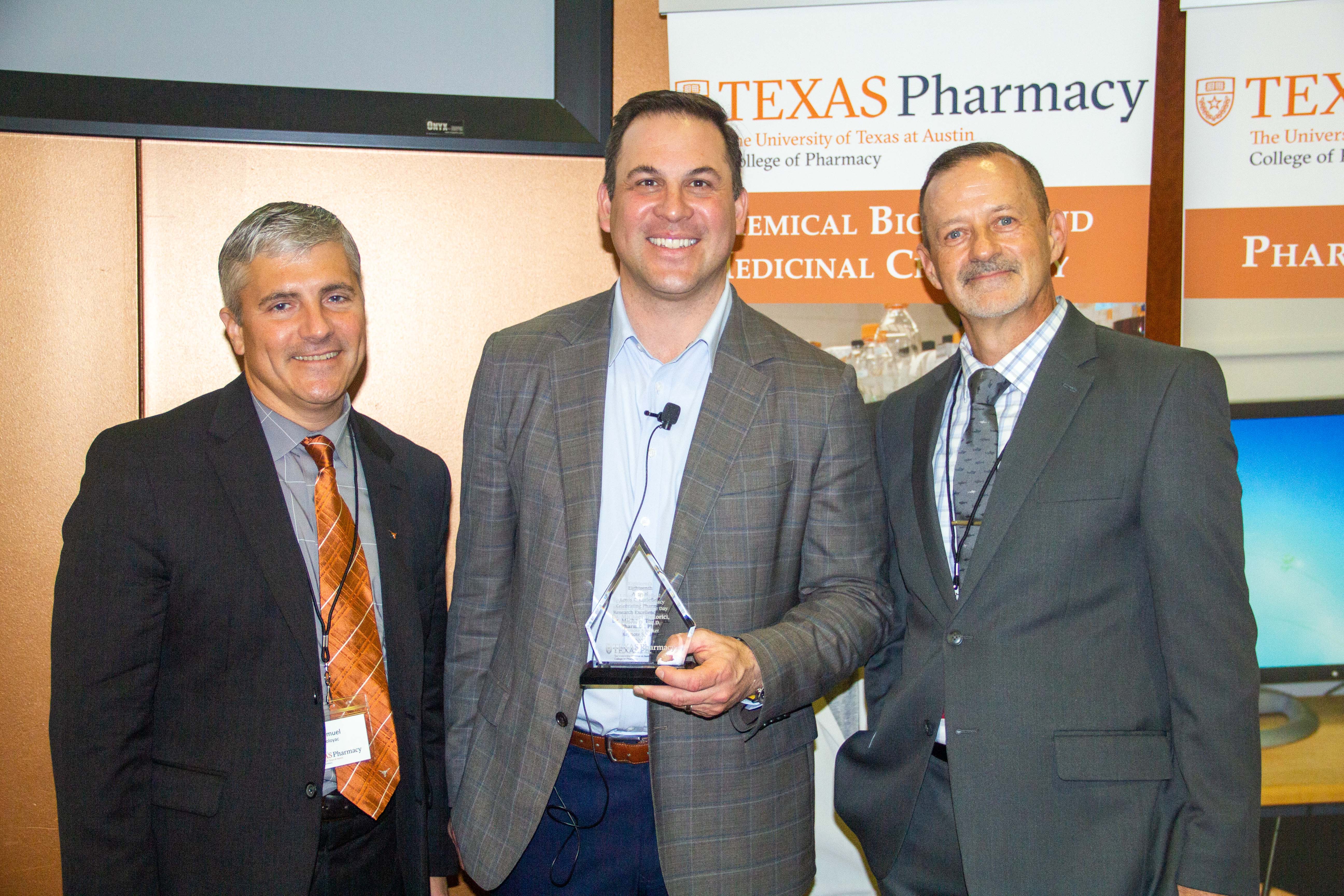 The day kicked off with a keynote scientific lecture 'Clinical Pharmacology and Drug Development: From Small Molecules to Biologics to Oligonucleotides' from Michael Tortorici, Pharm.D., Ph.D. Tortorici is the Vice President, Clinical Pharmacology & Non-Clinical Development at Aro Biotherapeutics, and an Advisory Council Member for the University of Texas at Austin College of Pharmacy.
"The level of engagement at the event this year was energizing. It was fantastic to see the pharmacy research community back in person and "celebrating" the impactful basic, social science and clinical research performed by our diverse pharmacy community." - John Richburg
The event also included a distinguished faculty lecture from Hung-wen (Ben) Liu, Ph.D., Professor of Chemical Biology & Medicinal Chemistry in the College of Pharmacy, and George H. Hitchings Regents Chair in Drug Design. Liu's presentation was titled 'Exploring the Surprising World of Enzyme Catalyzed Reactions.'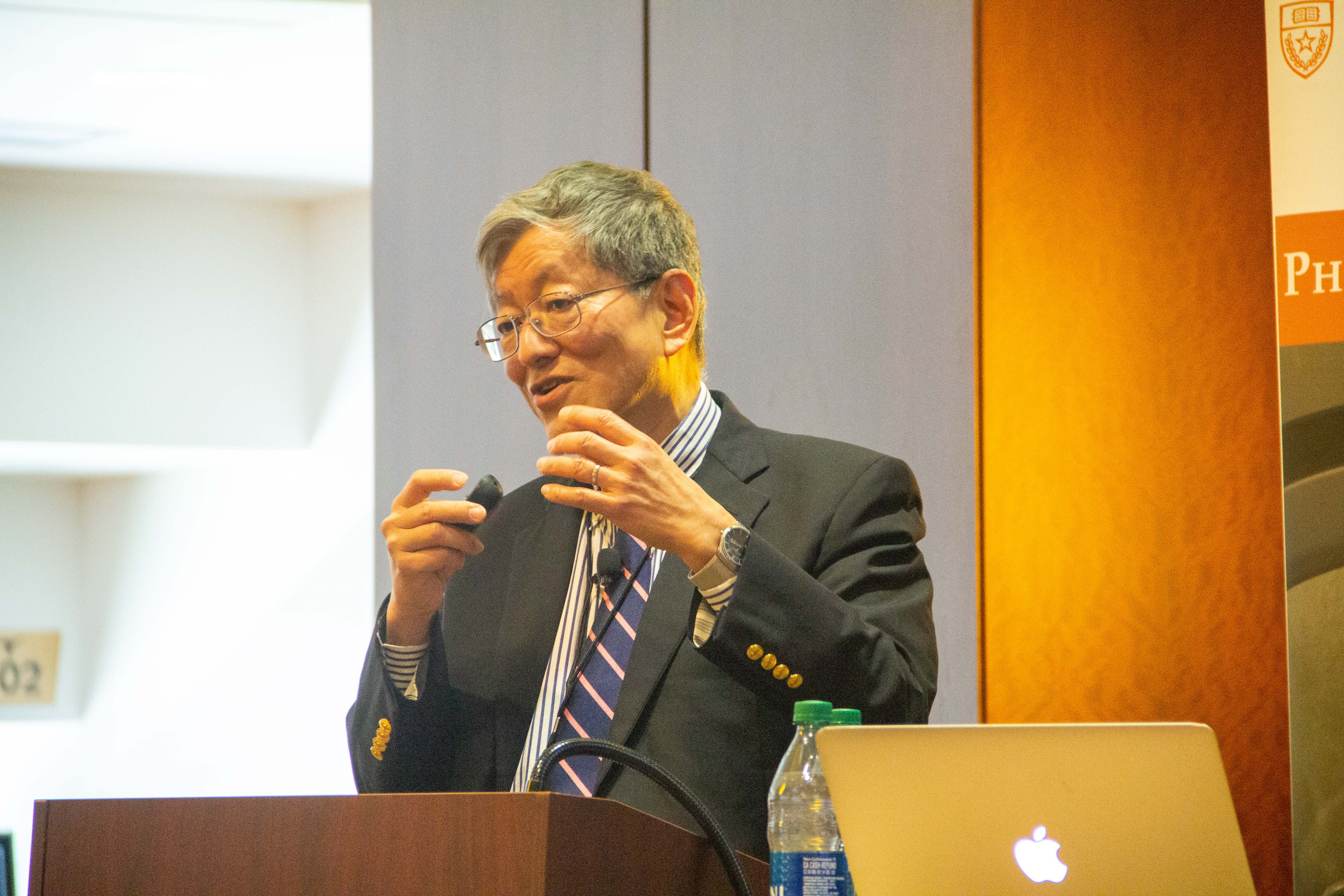 Abstract winners shared their current research during a lunch-hour presentation leading into the afternoon scientific poster session—one that boasted the highest registration to date—with 118 posters presented! The floor was buzzing with energy and excitement, opening up for attendees and colleagues to learn more about the poster presentations and talk to the presenters about their work.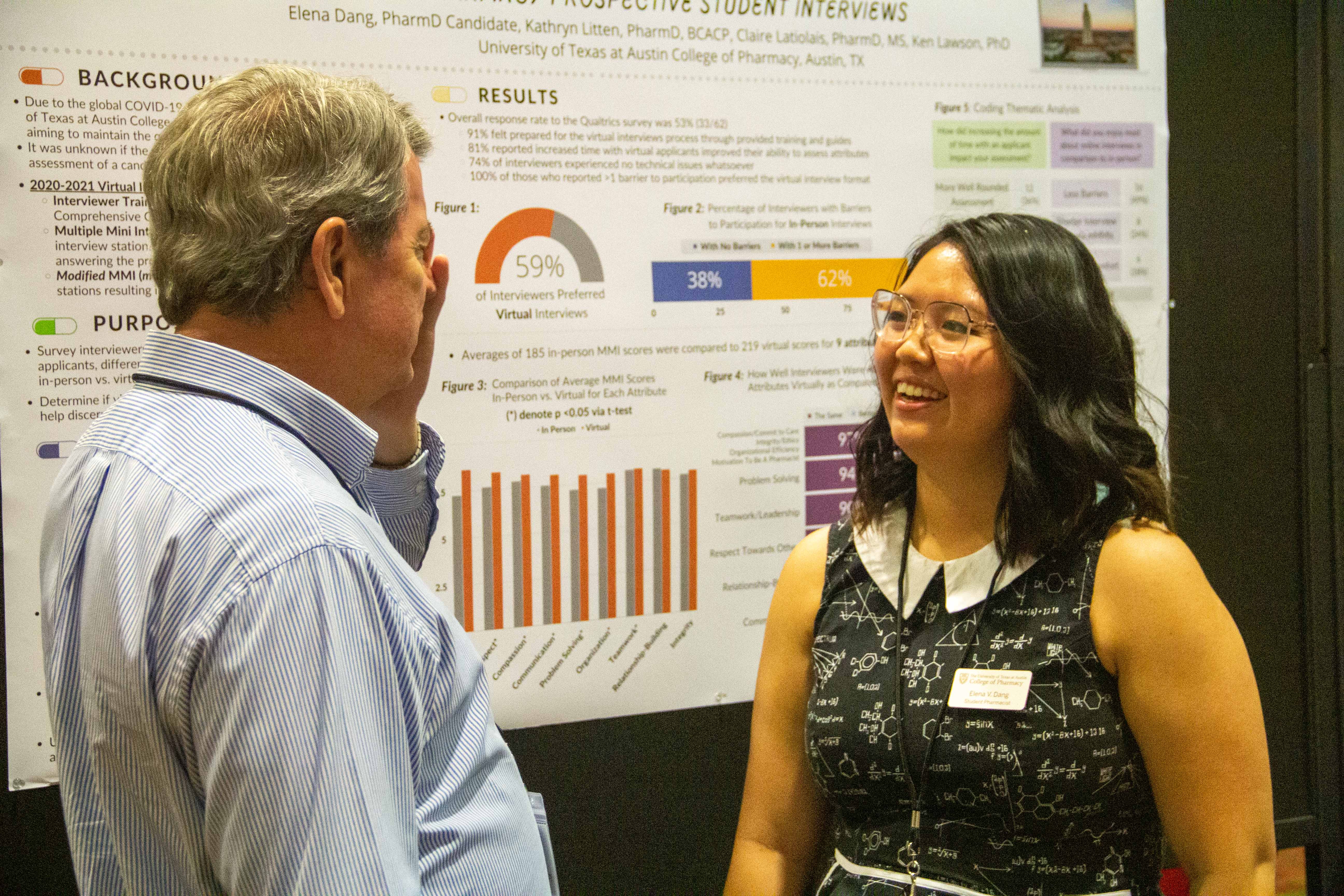 2022 Abstract Award Winners
Undergraduate Program:
Ria Goyal 
"STUDYING THE ROLE OF TFEB IN TRIPLE NEGATIVE BREAST CANCER STEM CELLS"
Mentor: Carla Van Den Berg, Pharm.D.
---
Professional Program:
Alex Fan 
"ANALYSIS OF 2019 MISSION TRIP DATA TO REFINE FUTURE MEDICATION FORMULARIES IN YANGON, MYANMAR"
Mentor: Holli Temple, Pharm.D., BCPS
---
Graduate Program:
Yogesh Vohra 
"DEVELOPMENT OF THE MEDICATION ACCESS SCREENING TOOL (RXMAST) IN PATIENTS WITH CHRONIC DISEASES: A QUALITATIVE STUDY"
Mentor: Carolyn Brown, Ph.D., FAPhA
---
Postdoctoral Program:
Rachel M. Sammons 
"A SCREENING PLATFORM FOR IDENTIFYING ANTAGONISTS IN ACE2-SARS-COV 2 TRIMERIC SPIKE PROTEIN INTERACTIONS"
Mentors: Eun Jeong Cho, Kevin N. Dalby, Ph.D.
---
Resident Program:
Tori J. Lindbloom, Pharm.D. 
"EVALUATION OF PHARMACISTS' ROLE IN PREOPERATIVE MEDICATION REVIEW AT SOUTH TEXAS VETERANS HEALTH CARE SYSTEM"
Mentor: Jason M. Corbo, Pharm.D., BCPS
---
2022 Poster Award Winners
Best Undergraduate Poster Presentation:
Sriya Gullapalli 
"MATERNAL IMMUNE ACTIVATION DYSREGULATION OF FETAL NEURODEVELOPMENT AND RELEVANCE TO NEURODEGENERATION DISORDERS"
Mentor: Laura K. Fonken, Ph.D.
---
Best Pharm.D. Poster Presentation:
Melanie Sokol 
"A SECRET SHOPPER PROJECT TO ASSESS PHARMACIST COUNSELING REGARDING NICOTINE REPLACEMENT THERAPY IN THE COMMUNITY PHARMACY"
Mentor: Kajal Bhakta, Pharm.D., Kirk Evoy, Pharm.D., BCACP, BC-ADM, CTTS
---
Best Graduate Student Poster Presentation:
Ryan Thompson 
"SEX DIFFERENCES IN BASELINE BUT NOT ALCOHOL-INDUCED REACTIVE NEUROGENESIS IN THE DENTATE GYRUS"
Mentor: Kim Nixon, Ph.D.
---
Best Postdoctoral Fellow Poster Presentation:
Ju-Hyeon Lee
"DISCOVERY OF NOVEL JAK1 PSEUDOKINASE DOMAIN INHIBITORS WITH POTENT CYTOTOXIC ACTIVITIES AGAINST SEVERAL HUMAN CANCER CELL LINES"
Mentor: Kevin Dalby, Ph.D.
---
Best Resident Poster Presentation:
Clayton Lambert 
"COMPARISON OF F(AB')2 VERSUS FAB ANTIVENOM IN ADULT AND PEDIATRIC PIT VIPER ENVENOMATION"
Supervisors: Mitchell Daley, Cynthia McCune
---
If you missed this event, please visit the Research Day website to access/download the PDF of program that includes the event itinerary and listing of trainee abstract award speakers, the Keynote and Distinguished Faculty speakers and a complete listing of the abstracts. 
A special thank you to all of the faculty, staff and participants who made Research Excellence Day possible, including its namesake "Cliff" Louis Littlefield.
Stay curious, researchers, what starts here changes the world.