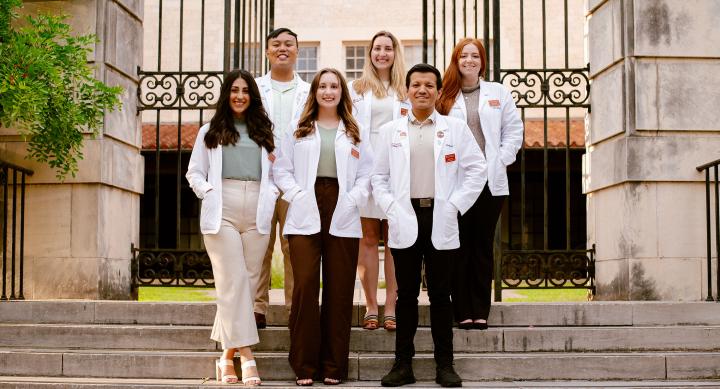 Student Life at the College of Pharmacy
Student Events
Students in the Pharm.D. program participate in a variety of co-curricular events and programs. Beyond those held by student organizations, the College holds annual events such as the following:
New Student Orientation (August)

White Coat Ceremony (August)

Career Fair and Residency Showcase (October)

P4 Career Interviews (October)

Deans' Ice Cream Social (October)

DOSE of Well-Being Week (November)

Fall Study Break Event (December)

P1 Internship Interviews (January)

Explore UT (March)

Celebration of Excellence Awards (April)

P2 Send-Off (April)

Spring Study Break Event (May)

Graduation (May)
Student Spaces
The College of Pharmacy offers a variety of spaces for student studying and well-being:
Jaime N. Delgado Library
Located on the 3rd floor of the Pharmacy building (3.114) within the Learning Resource Center (LRC), the Jaime N. Delgado Library contains a student study area as well as conference rooms for faculty, staff, and students.  Conference spaces are fully equipped for videoconferencing with Zoom.
Student Lounge
Located on the 2nd floor of the Pharmacy Building (2.118), the Pharm.D. Student Lounge is used for students to relax and socialize. The room houses coffee machines and microwaves for student use, along with space for students to eat and study.
Private Wellness Space
Located on the 3rd floor of the Pharmacy Building, within the Learning Resource Center (3.114FA), this space can be used by students for meditation, reflection, and prayer. It is also a designated spaces for maternal feeding.
All Gender Restroom
Located on the 6th floor of the Pharmacy North Building (6.208), this is a single-use bathroom.
Living in Austin
According to U.S. News & World Report, Austin is one of the best places to live in the U.S.
Along with being the live music capital of the world, Austin is a hub for high tech companies, government, and education.  In addition, Austin was rated by WalletHub as one of the top foodie cities in the country.