Student Affairs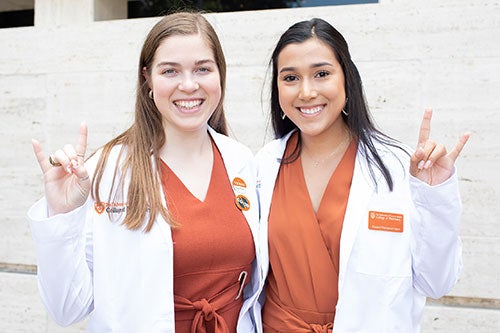 With the vision of dynamically optimizing the student experience, the Office of Student Affairs provides a variety of opportunities and services to support admissions and academic advising, along with enhancing students' character, community, and career-readiness.
Student Organizations

The College of Pharmacy student organizations provide opportunities to participate in student governance, professional pharmacy fraternities, a number of specialty groups, and more.

Office contact:
Email: phr.studentaffairs@austin.utexas.edu

Student Governance Organizations:

Pharmacy Council
Graduate Student Assembly (GSA)

Professional Pharmacy Fraternities:

Kappa Epsilon
Phi Delta Chi

Honorary Societies:

Other College-Sponsored Student Organizations:

Asian Pharmacy Students Association
Hispanic Association of Pharmacists
National Community Pharmacists Association
Pharmacy Graduate Students Association
San Antonio Student Pharmacists Association
Student National Pharmaceutical Association
UT-APhA-ASP
UT-CPNP
UT International Society for Pharmacoeconomics and Outcomes Research (UT-ISPOR)
UT Student Chapter of the American College of Clinical Pharmacy
UT Student Society of Health-System Pharmacists

Registered Student Organizations:

Christian Pharmacists Fellowship International
Longhorn Pre-Pharmacy Association (Austin)
UT-NCODA
Student Services

Office contact:
Gregory Caldera
Director of Admissions & Student Services

Student Services:
Career Services

Office contact:
Guillermo Alvarado
Senior Student Program Coordinator
Email: galvarado@austin.utexas.edu

The College of Pharmacy conducts several events during the year to assist students with finding practice opportunities. The Career Services team hosts P1 internship interviews, P4 career interviews, a Career Fair, and a Residency showcase.
Compliance

Office contact:
Keyanna Millinger-Killebrew
Administrative Program Coordinator
Email: pharmdcompliance@austin.utexas.edu

The College of Pharmacy requires students to be in 100% compliance with requirements including showing proof of vaccinations, being CPR certified at the start of the P1 year, and completing e-learning modules.
Contact the Student Affairs Office
Office Location:  Pharmacy (PHR) 5.112

Phone Number:  512-471-1737
Student Affairs Leadership