What Starts Here Changes the World
Graduates from the Post-BS Pharm.D., Masters, and Ph.D. Programs in the Pharmacotherapy Division have gone on to enjoy productive careers at leading universities, government agencies, and in the pharmaceutical and biotechnology industry. Numerous graduates can be found in academic settings including colleges and schools of pharmacy and medicine throughout the United States. Several graduates have become national academic leaders, including at least four deans and numerous department chairs.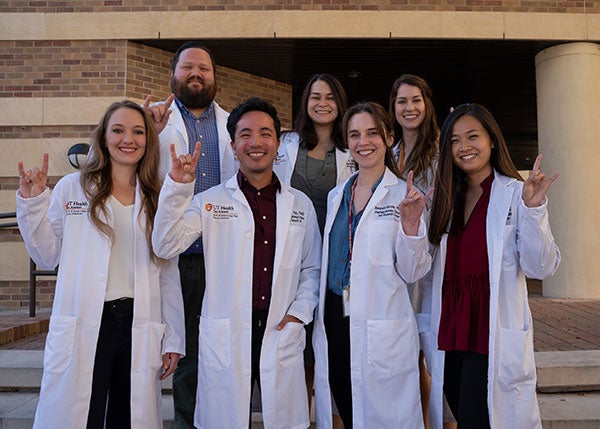 Alumni Spotlight

Brett Gilmore, Ph.D., JD, MSHS, RN, CPM
Ph.D. in Translational Science, 2021
Current Position: Director of Clinical Management, Otsuka-US
I received my Ph.D. in Translational Science on December 18, 2021. I am appreciative of Dr. Christopher Frei for serving as my mentor and supervising professor during my time in the program. My dissertation, titled A Cross-Sectional Pilot Study In Adolescents To Evaluate Determinants Of Health Regarding E-Cigarette, Or Vaping, Product Use, evaluated a novel assessment tool comparing the knowledge, attitudes, and beliefs of adolescents including those that self-identified as regularly vaping versus those that do not vape. The comprehensive nature of the program, as designed, allowed me to master the steps and understand in totality the collaboration required to move discovery from the bench to the bedside to improve the health of society.
Within months of graduation, I received 5 job offers from various pharmaceutical companies for roles up to and including Vice President, Clinical Operations. I ultimately accepted a role as Director of Clinical Management with a well established Japanese pharmaceutical company with US subsidiaries in Princeton, New Jersey; Hayward, California; and Rockville, Maryland based on my therapeutic area of expertise and cultural fit. In my role as Director, I oversee teams of clinical scientists, project managers, and quality assurance professionals. We are constantly striving to find treatments for Central Nervous System disorders including schizophrenia, major depressive disorder, bipolar disorder, and other neurological and neuropsychiatric conditions, including Alzheimer disease, epilepsy, attention deficit hyperactive disorder, posttraumatic stress disorder, borderline personality disorder, and autism.
My time within the University of Texas, College of Pharmacy has proven invaluable. It has increased my confidence and afforded me the opportunity to expand my network. The colleagues, friends, mentors, and professionals I encountered every day have become a tremendous resource when I encounter challenges or just need an ear to listen. The program integrates the critical elements of pharmaceutical research and development while remaining flexible enough for individual interests and pursuit of passions. I am forever a lifelong learner and appreciate the tremendous value my Longhorn education has afforded.

Amanda Kitten, Pharm.D., MSc, BCPS
Pharmacotherapy Residency, 2019
M.S. in Pharmaceutical Sciences, 2019
Pharm.D., 2017
Current Position: Assistant Professor, Pharmacy Practice, University of the Incarnate Word Feik School of Pharmacy
I attended UTCOP, where I received my Pharm.D. in May 2017. Following graduation, I completed a two-year Pharmacotherapy Residency in conjunction with a Masters in Pharmaceutical Sciences, also at UTCOP. I went on to work as an Assistant Professor of Pharmacy Practice at the University of the Incarnate Word (UIW) Feik School of Pharmacy, and I am coming up on my three-year anniversary at UIW.
My main roles are taking students and residents on rotation in the cardiology care unit at University Hospital; teaching didactic lectures, including cardiology pharmacotherapy, Medical Literature Evaluation, and Introduction to Clinical Reasoning; and conducting research. I also serve as the Residency Program Director of the UIW Pharmacotherapy Residency. The training I received at UTCOP, especially my Masters and Pharmacotherapy Residency, was truly the perfect preparation for my role as a clinical faculty member, and I am so grateful for my time there and the excellent mentorship I received.

Chengwen Teng, Pharm.D., Ph.D., MS
Ph.D. in Translational Science, 2019
Current Position: Assistant Professor, College of Pharmacy, The University of South Carolina
Chengwen Teng, Pharm.D., Ph.D., M.S., is an Assistant Professor at the University of South Carolina College of Pharmacy. He earned his Ph.D. in Translational Science from the University of Texas at Austin, his Pharm.D. from the University of Oklahoma Health Sciences Center, a Master of Science degree in biological sciences from the University of Southern Mississippi, and a Bachelor of Science degree in biology from Wuhan University. Dr. Teng is a pharmacist licensed in the United States. 
Dr. Teng is passionate about improving human health and promoting the safe use of medications. Currently, he is working on the identification of new adverse drug reactions, drug-drug interactions, and drug-disease interactions, and is comparing drug safety and effectiveness profiles using spontaneous reporting systems, electronic health records, and other databases. In addition to health outcomes research, Dr. Teng had research experience in pharmacology, immunology, and biochemistry.

Amina Zeidan, Ph.D., MPH, CPH
Ph.D. in Translational Science, 2021
Current Position: Research and Development Microbiologist, United States Army
Dr. Amina R. Zeidan is a 2021 graduate of the Translational Science PhD program with a focus in Infectious Diseases. After graduating, she completed a postdoctoral fellowship at NASA Langley Research Center, where she led the Gut Microbiome in Space project with the goal of identifying the effects of chronic space radiation on human health and disease development.
Currently, Dr. Zeidan is a Captain in the United States Army, serving as a Research and Development Microbiologist. She also works as an adjunct professor at George Mason University in the College of Health and Human Services, Department of Global Health.