The mission of the Division of Pharmacotherapy is to train and educate pharmacists and pharmaceutical scientists to provide specialty pharmacotherapeutic services, including acute and primary care, and to conduct translational, transdisciplinary, and other types of innovative research. The Division also holds with equal value its efforts in the areas of teaching, service, and scholarship.
Research Areas of Excellence
Faculty, residents, and students pursue clinical and translational research to help solve some of today's greatest pharmacotherapeutic challenges. Areas of research excellence include infectious diseases and cancer research.
Mission
To educate and train the future leaders of pharmacy, engage in innovative research, and provide exemplary patient care.
Vision
To be a leader in practice-related education, clinical and translational research, and professional service.
Motto
Embracing Excellence. Inspiring Innovation. Improving Lives.
Research Training Programs
Pharmacotherapy Division graduate degree programs
Master of Science in Pharmaceutical Science
 
Doctor of Philosophy in Pharmaceutical Science
 
Doctor of Philosophy in Translational Science
These programs prepare the student for the numerous opportunities in advanced practice and research.
Masters Program
The Masters Program is designed to be the "terminal" degree for the advanced practice clinician who brings science to practice. The maturation of clinical pharmacy and the widespread adoption of pharmaceutical care as the cornerstone of pharmacy practice are evidenced by changes in standards and regulations. Collaborative drug therapy practice in Texas and in over 30 other states, allows pharmacists to assume primary care responsibilities for patients (e.g., disease management and the ordering of medications and laboratory tests). Pharmacotherapy practitioners provide patient care responsibilities at the specialist level, apply science to practice, and contribute to the body of pharmacotherapeutic knowledge through scholarship and services innovation.
Pharmaceutical Science PhD Program
The Pharmaceutical Science PhD Program is a research degree designed to prepare students to discover, integrate, and apply knowledge as well as to communicate and disseminate it. The degree emphasizes development of the capacity to make significant original contributions to knowledge within the context of free inquiry and expression. The student pursuing this degree is expected to develop the ability to understand and to evaluate the literature of his or her field and to apply appropriate principles and procedures to the recognition, evaluation, interpretation, and understanding of issues at the frontiers of knowledge. The graduate will be able to independently engage in the discovery, dissemination, and application of pharmaceutical and biomedical knowledge to improve the health status of society.
The Translational Science PhD Program is a multidiscplinary, inter-institutional degree program, that leverages the strengths of four universities in The University of Texas System. Physicians, nurses, pharmacists, dentists, and other health professionals received advanced clinical and translational research training in an interprofessional environment. The Translational Science PhD Program provides an in-depth, rigorous, and individualized research education and training program that will prepare clinician-scientists to integrate information from multiple domains and conduct independent and team-oriented research to improve human and global health.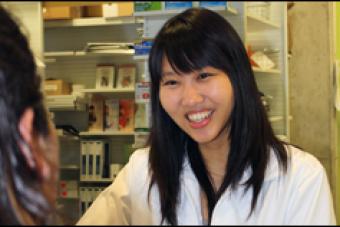 The division is the home base for many students engaged in either a one- or two-year specialty practice residency program or a two- or three-year clinical science fellowship.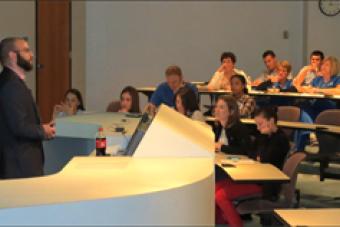 The mission of this program is to provide pharmacists and other health care providers in South-Central Texas with evidence-based and patient-centered instruction they can use to prevent disease and improve the care they deliver to their individual patients, families and communities.
Students entering our program have a baccalaureate degree in a discipline such as pharmacy, chemistry, biochemistry or a biological science. This training should include coursework in biology, organic chemistry, biochemistry, calculus and physiology.
Additional details about eligibility and admissions can be found on the Graduate Studies page.
Pharmacotherapy Division History
The University of Texas at Austin (UT Austin) College of Pharmacy founded the Pharmacotherapy Division on the campus of the University of Texas Health San Antonio (UT Health San Antonio) in 1973. The first Doctor of Pharmacy class entered in 1974. The Program was originally placed in the Department of Pharmacology and administered through the Graduate School of Biomedical Sciences through an agreement with Dean James Dolusio and Dr. Arthur Briggs. Since that time, the UT Austin and the UT Health San Antonio have partnered to offer degree programs.
The Pharmacotherapy Division was the original home for the College's Doctor of Pharmacy "graduate" degree program; a program for those pharmacists who had already earned their pharmacy Bachelor's degrees, but sought additional clinical research training. Several of these PharmD graduates have become national academic leaders, including at least four college of pharmacy deans and numerous department chairs.
In 1999, the national accreditation council for colleges and schools of pharmacy mandated that all pharmacy programs in the nation offer the PharmD degree as the entry-level degree for practicing pharmacists; therefore, the PharmD degree became a "professional" degree instead of a "graduate" degree. The curriculum was revised accordingly; clinical research training was replaced with greater training on patient assessment, therapeutics, and clinical decision-making.
Recognizing the continuing need for advanced research training for pharmacists, the Pharmacotherapy Division developed new Masters and PhD graduate programs in 2001 to provide this type of training for those pharmacists who had already earned their PharmD degrees.
In 2006, the Pharmacotherapy Division was formally recognized as the Pharmacotherapy Education and Research Center (PERC) within the UT Health San Antonio's Long School of Medicine. Dr. Christopher R. Frei, PharmD, MS (Doctor of Pharmacy 2001, Master of Science in Pharmacy 2003) serves as the PERC Director and Pharmacotherapy Division Head. The PERC's mission is to train and educate pharmacists and pharmaceutical scientists to provide specialty pharmacotherapeutic services, including acute and primary care, and to conduct innovative translational and transdisciplinary research. In keeping with its mission, the Program partnered with three other universities in San Antonio, including the UT Health San Antonio, and the UT San Antonio, to develop a new Translational Science PhD Program in 2011. Collectively, the San Antonio pharmacy programs consist of 13 full-time faculty and nearly 200 adjunct/adjoint faculty, who train nearly 80 student pharmacists, 25 graduate students, and 25 pharmacy residents annually.
The UT Austin College of Pharmacy is currently ranked among the top in the nation.