Experiential programs provide students with experiences in the field under the guidance of preceptor faculty. The experiences increase in duration and complexity as the student gains knowledge and skills, culminating with the final year of rotation experience.
Introductory Pharmacy Practice Experience (IPPEs) are primarily experiential activities that occur in pharmacy practice sites, but may also include simulation, volunteer activities related to pharmacy practice, and reflection on these experiences.
IPPEs occur in the context of required courses during the P1, P2 and P3 years.
Advanced Pharmacy Practice Experience (APPEs) provide P4 students with patient care and other experiences through rotation courses in regional sites throughout Texas. 
Students accumulate internship hours required for Texas licensure through APPE coursework.
 
Location of IPPEs (P3 year) and APPEs (P4 year).
All students are assigned to a geographic region for the P4 senior experiential year.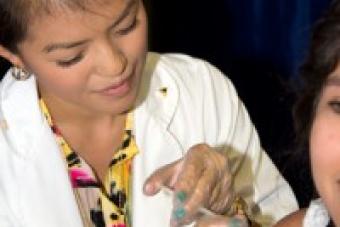 Immunization & Background Check, Registration as a Student Pharmacist Intern, Health Insurance, Liability Insurance, and more.
Preceptor Faculty members help students make the transition from classroom knowledge to worksite experience.