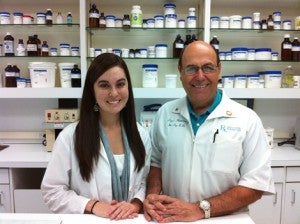 Experiential education is a required component of the Pharm.D. curriculum that provides students with experiences in pharmacy practice under the guidance of preceptor faculty.
The experiences increase in duration and complexity as the student pharmacist gains knowledge and skills, starting with introductory pharmacy practice experiences (IPPEs) in health-system institution, community, and ambulatory pharmacy settings.
The experiences culminate with the advanced pharmacy practice experiences (APPEs) occurring in the final year of the curriculum (P4), commonly referred to as "rotations."
About the Experiential Program
Pharmacy practice experiences ensure that students gain the best possible professional practice experience in an interprofessional collaborative practice (IPE) environment. Student activities are designed to develop contemporary clinical practitioners able to meet the increasingly complex health care and drug therapy needs of patients.
These experiences are supervised by college faculty or preceptor-faculty who have professional credentials and expertise commensurate with their responsibilities. Preceptors can be pharmacists, physicians, dentists, podiatrists, veterinarians, advanced practice registered nurses, or physician assistants.
IPPEs and APPEs occur in healthcare partner facilities in five regions across Texas. Students are assigned in their first year to one of five Texas regions:
Austin / Temple / Waco (ATW)

Dallas / Fort Worth (DFW)

Galveston / Houston (GHO)

San Antonio (SA)

Rio Grande Valley (RGV) (Available upon request)
Some APPEs may occur in other states of the U.S., such as at pharmaceutical companies in New Jersey or Massachusetts, at the Indian Health Service (IHS) in Oklahoma or Alaska, the Food and Drug Administration in the Washington D.C. area, and others.
Experiential Education Resources
Incoming Students - Policies & Requirements
Incoming students complete the Texas State Board of Pharmacy Online Intern Application immediately prior to the first professional year.  Review our Pharmacist-Intern registration document, along with our policies and requirements document, for additional information and instructions.
IPPE and APPE Details
The IPPE and APPE page provides details about these experiences, including coursework, progression, and logistical information.
Region Information
The Regions page provides additional information about the APPE rotation regions and the assignment process.
Preceptor Information
Preceptors provide a vital service to pharmacy students by helping them make the transition from classroom knowledge to worksite experience.  Prospective and current preceptors can find more information on our Preceptors page.
Accreditation and Competencies
The College of Pharmacy experiential education program seeks to excel in the following standards, processes, and requirements: