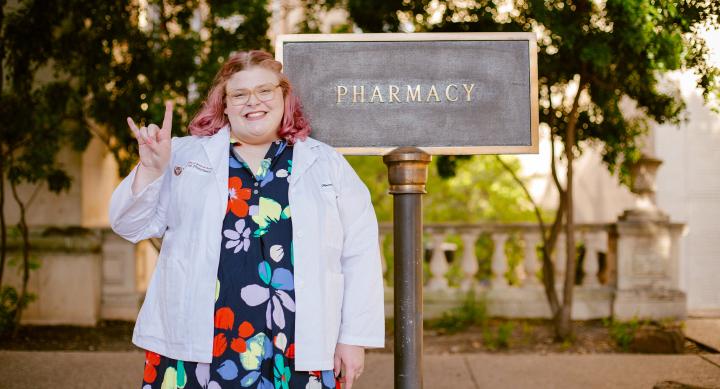 Check out the latest edition of Pharm Fresh—a blog series dedicated to spotlighting UT Pharmacy students who are making waves in their practice, accelerating new ways of thinking, building community and sharing their vision for remodeling the landscape of healthcare and the pharmaceutical sciences.
At Texas Pharmacy, students want to change the world and have fun doing it—third-year student pharmacist Hannah McCullough is doing just that with her sleeves rolled up, a smile on her face and a stack of impressive credentials to back it up. One only needs to glimpse her email signature to learn that Hannah is a booked and busy Texas Pharmacy leader: President of Kappa Epsilon, New Student Orientation (NSO) Co-Chair, member of Know Your Medicine, working on an Honors Research project... the list goes on. We wanted to learn more about Hannah's audacious leadership endeavors, her passion for providing healthcare to under-resourced populations and why relationship building is so important to her. Here is what she shared with us:
If you had a warning or advisory label, what would it say?
"Take with food." I am notorious for getting hangry.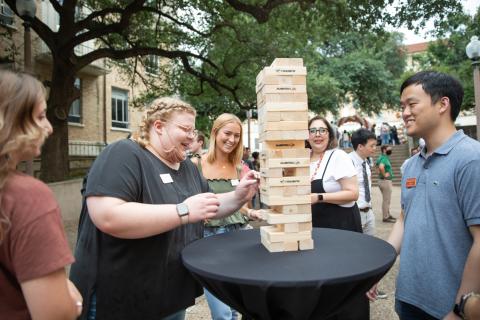 What is most exciting about being at Texas Pharmacy?
I love being back in Texas! I'm originally from Kerrville, Texas, but I spent five years at Georgia Tech in Atlanta, Georgia working toward a B.S. in Chemical Engineering. Once I decided to pursue pharmacy school, I was itching to get back to the Lone Star State.
Not only is The University of Texas at Austin College of Pharmacy an excellent pharmacy school but living in Austin means I get to see my family much more frequently. I didn't realize how much I was going to appreciate seeing my parents and brothers a couple of times each month, and in hindsight it makes me even happier with my decision to attend UT.
There are also countless opportunities to get involved in the Texas Pharmacy community, and I have definitely taken advantage of that! Both of my parents also went to UT, so it's special for me to share that with them.
One only needs to glimpse your email signature to learn that you are a booked and busy Texas Pharmacy leader. What is the main motivation for your leadership endeavors?
I genuinely love the organizations I'm involved with. I have always focused on getting involved in things I truly enjoy rather than simply because it might look good on my CV. I think my passion and love for my extracurricular involvement really shows in the leadership positions I hold.
I enjoy being a part of organizations and events where you get to bolster or show off your school or organization and mentor new students and members, which is why I was so drawn to being an NSO co-chair and pharmacy ambassador. I feel like my personality truly shines in these roles because I get to be my bubbly and goofy true self.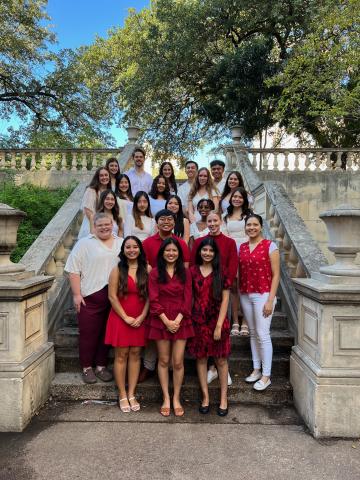 With Kappa Epsilon (KE), I have always valued the relationships I've built. I've met some of my closest friends in pharmacy school through Kappa Epsilon, and I wanted to be president so I could continue shaping the organization so that others could build meaningful relationships as well. I am so grateful for my time as KE president because I have had so much fun recruiting new members and getting to know them while also fostering an environment where members can create connections and grow professionally and personally.
Do you have a person who has had a tremendous impact on you as a student pharmacist and a leader? Maybe someone who has been a mentor? Why and how did they impact your life?
Someone who has impacted me in my experience as a leader in the college is Dean Samuel (Justin Samuel, Ph.D.). I have worked with Dean Samuel through NSO and as an organization president, where he provides vital leadership, advice, support and encouragement. I value his perspective on student life in the college as someone who is not a pharmacist, and he has continued to show me that pharmacy is just one small part of a much bigger world. I know that I can always go to him with questions or for advice about pretty much anything. I am incredibly grateful that I have been able to work with him over the past few years!
Your honors research project involves working in the Division of Health Outcomes with Dr. Moczygemba. Can you tell us more about that?
Ever since starting pharmacy school, I wanted to get involved in research but always said I didn't want to do any research where I had to wear a lab coat. Thankfully, I learned more about health outcomes research and decided to get involved in that.
The research I'm doing is with the iCAN mHealth intervention in Dr. Moczygemba's (Leticia R. Moczygemba, Pharm.D., Ph.D.) research group. iCAN (Interactive Care Coordination and Navigation), is a community-based mHealth intervention aimed to improve care coordination between health and social services for people experiencing homelessness with a goal of reducing hospitalizations and emergency department visits. Participants are given a smartphone loaded with preinstalled apps, a bus pass and resources to stay in touch with a case manager. I've worked on this research project as a graduate research assistant, and I'm currently finishing up my honors research project where I'm conducting a cost-benefit analysis on the iCAN intervention.
I wasn't entirely sure what health outcomes research entailed until I started working as a research assistant, but I've fallen in love with it. I'm also completing the dual Pharm.D./MPH program with a focus on health promotion and behavior theory, so health outcomes research aligns very well with those interests. I like health outcomes and health promotion because they focus on healthcare while taking into account that patients are actual people. Learning about this type of research has really shaped the type of pharmacist I want to be and guides my future career interests as well.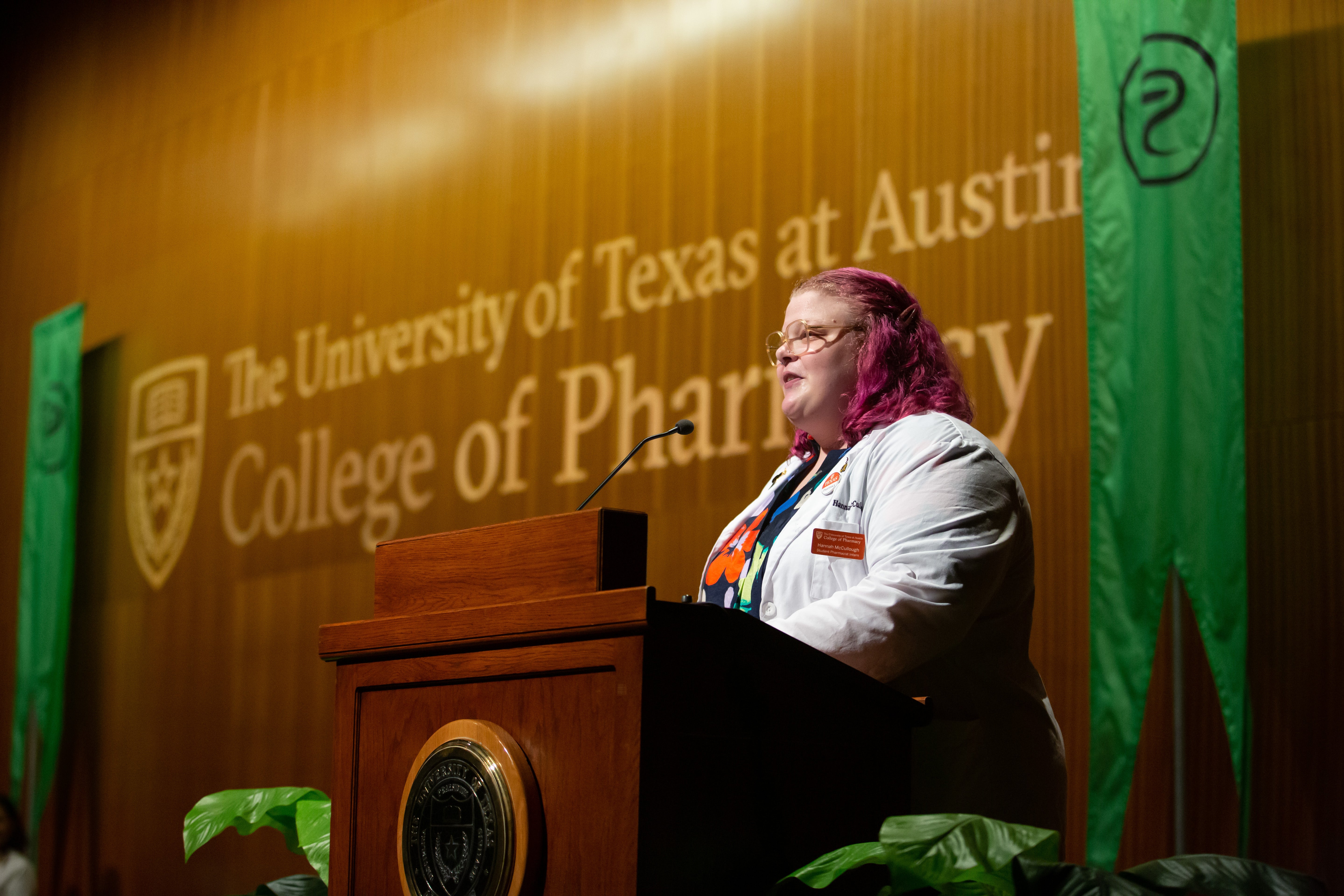 To date, what experience(s) are you proudest of during your time at The University of Texas College of Pharmacy? How will said experience(s) propel you forward?
The two things I am the proudest of during my time at Texas Pharmacy are planning the 2022 White Coat Ceremony and everything I've accomplished as Kappa Epsilon president so far.
Planning the White Coat Ceremony was so special because it was the first full ceremony since 2019. The White Coat Ceremonies in 2020 and 2021 were canceled or reduced in scope due to COVID-19, so none of the faculty, staff or students involved in planning the White Coat Ceremony this year had ever experienced the full ceremony before. This was an added challenge on top of the planning and coordination involved in the event, but it was fun to dream up our own version of what we truly wanted the experience to look like. The White Coat Ceremony ended up exceeding my expectations and I was so honored to be able to plan and participate in the ceremony.
During my time as KE president, I've helped recruit one of the largest new member classes the organization has had in several years. Kappa Epsilon is a professional pharmacy fraternity, and the Xi chapter is one of the oldest organizations in the college.
KE has historically been a smaller organization but has had notably low membership over the past few years. As president, I was determined to bring this organization back in full force. Initially, I was nervous that my goals to revive the organization were too lofty. There was a moment where the vice president and I were talking with our advisor about how realistic it was for the organization to continue within the college, but we decided to come up with a plan on how to recruit enough members to continue for at least one more year.
There were only seven active members on the Austin campus this fall, and every single member was crucial in recruiting our new member class. After planning countless social, service and professional development events, we initiated 18 new members into the Xi chapter. I am so proud of the hard work we put into revamping this organization. I look back on every event we planned, each infographic we made and all the conversations I had while recruiting new members and can see how that hard work has paid off. Being president of this organization has been so rewarding, and I am so proud of the work we put in and the good things that have come out of it.
What impact do you want to have in healthcare/pharmacy and/or the community?
I want to be known as a provider who truly cares for her patients and community, especially the people that are excluded from traditional healthcare services. I am passionate about providing healthcare to under-resourced populations, including people experiencing homelessness, people who inject drugs, and people who do not have insurance. These people are often overlooked by traditional healthcare services due to barriers and stigma, and I want to make an impact in healthcare by providing compassionate and nonjudgmental care. I think that the current healthcare system often forgets that these people are human beings too, and they deserve healthcare as a basic human right.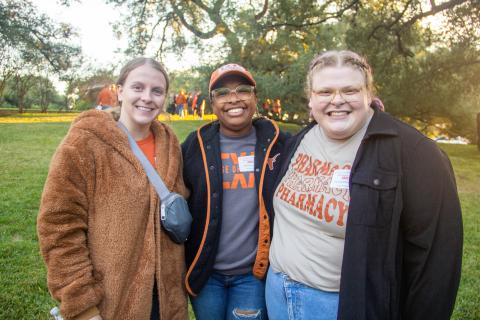 What advice would you give a fellow student pharmacist who may be interested in volunteering or leadership opportunities but doesn't know where to start?
My advice would be to get involved in things you are interested in or are passionate about versus things that might "look good" for residency or job applications. There is a lot of emphasis in pharmacy school on getting involved in organizations and volunteering for career advancement, but I dislike this sentiment. It's more important to spend your time on things you actually enjoy doing. Future employers and colleagues care a lot more about something you are passionate about than something that you did simply out of obligation.
Student pharmacist by day, ________ by night. How do you unwind or recharge after a long day of classes, meetings and volunteering?
Student pharmacist by day, cat mom by night! One of my favorite things to do after a busy day is to go home and hang out with my two cats, Lunchbox and Rex. I frequently spend my evenings on the couch with my cats watching Jeopardy while embroidering, cross-stitching or knitting. I also love spending time with pharmacy friends outside of school. My friends and I love to hang out and get dinner or ice cream, and usually someone will say "we are not talking about anything school-related at dinner!" I think this is a great boundary to have because we are doing pharmacy-related things for so many hours of the day, and I'm thankful that I have friends who value that time away from school.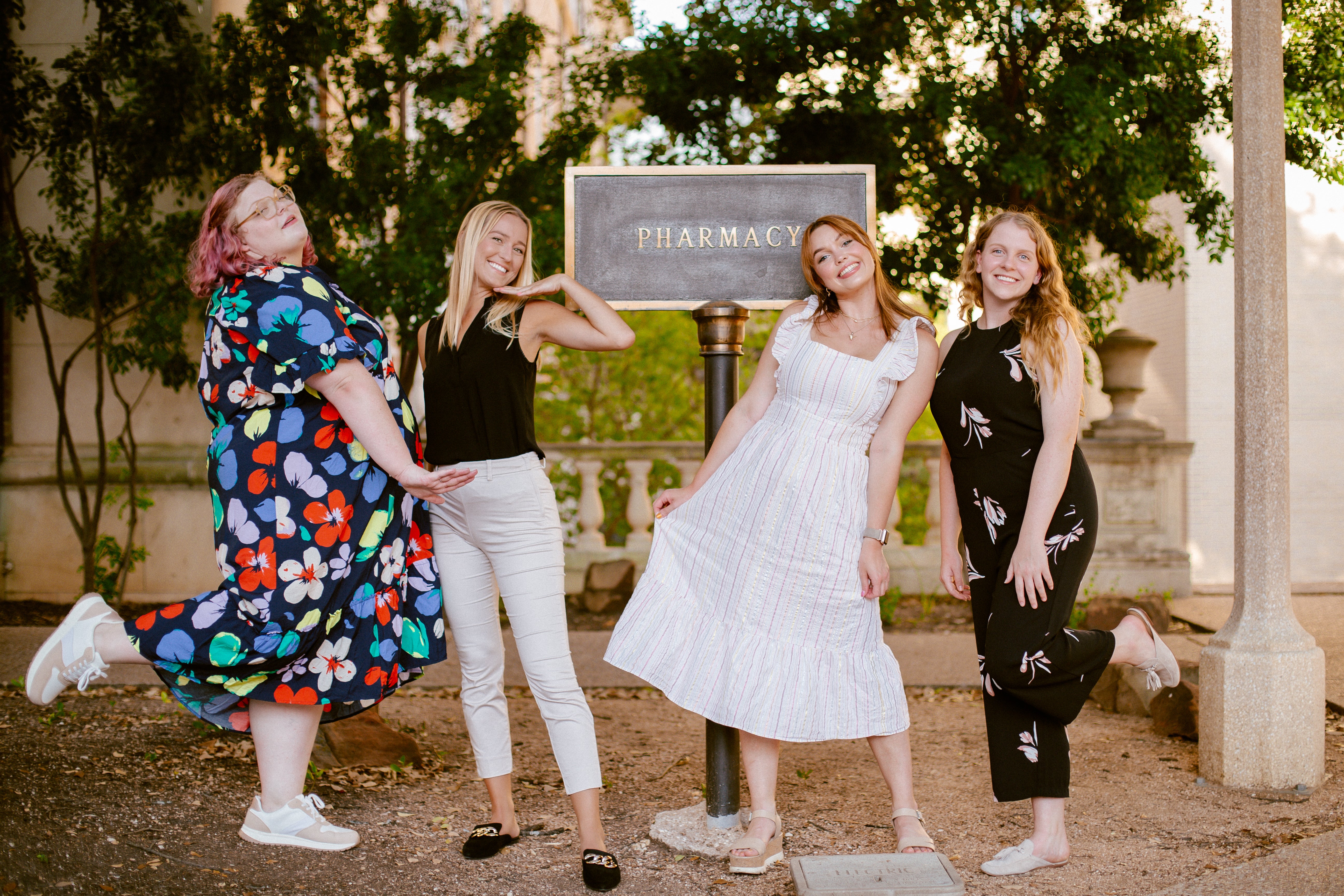 ---
This news article is a part of a new, ongoing series. Explore more profiles below:
More Pharm Fresh profiles coming soon.