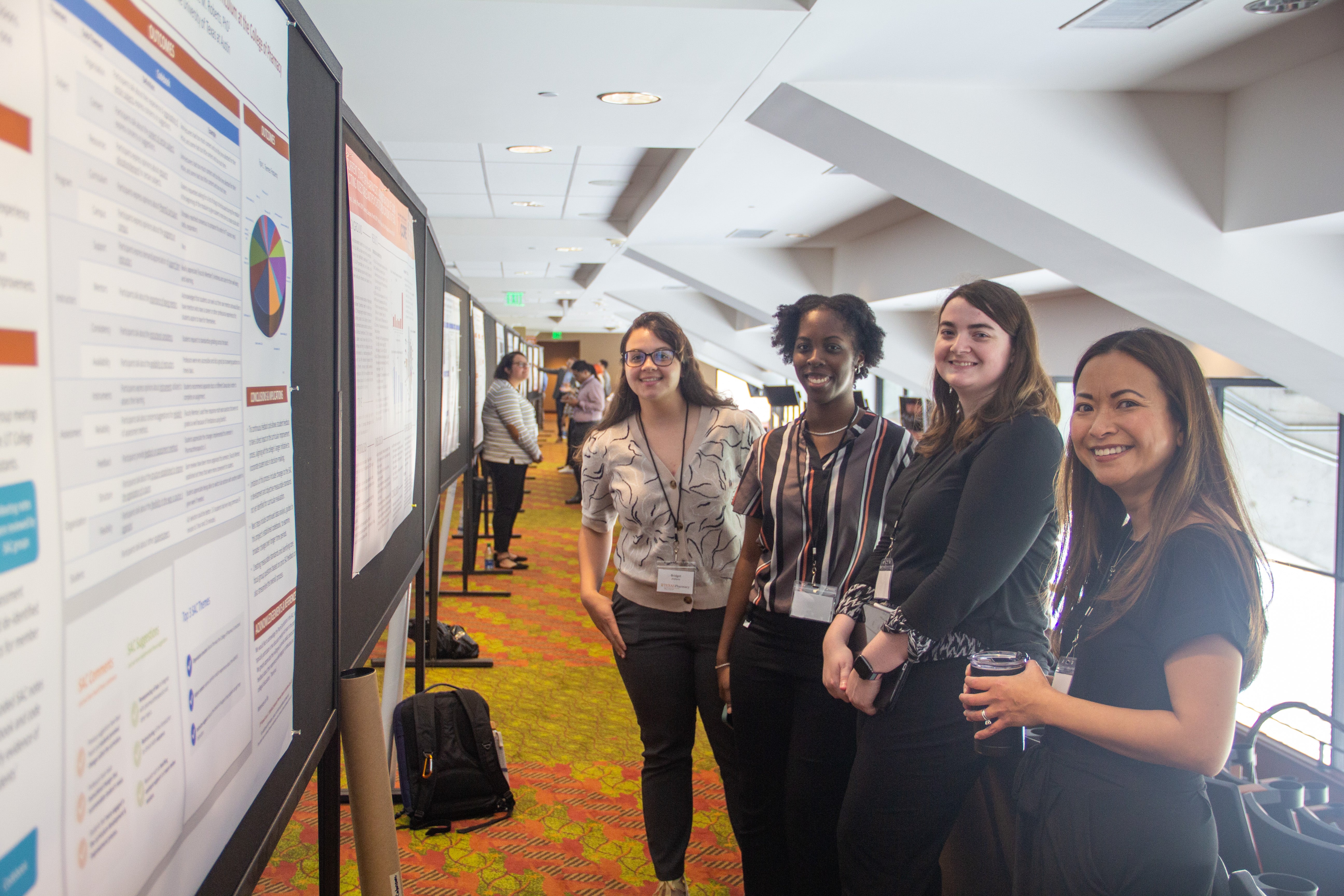 The Nineteenth Annual Louis C. Littlefield Celebrating Pharmacy Research Excellence Day was held on Tuesday, April 11, 2023. Hosted by the College of Pharmacy's Office of the Associate Dean for Research and Graduate Studies, this annual event highlights the accomplishments of Texas Pharmacy researchers at all levels: undergraduate, Pharm.D. and graduate students, postdoctoral fellows and residents, as well as research staff and faculty.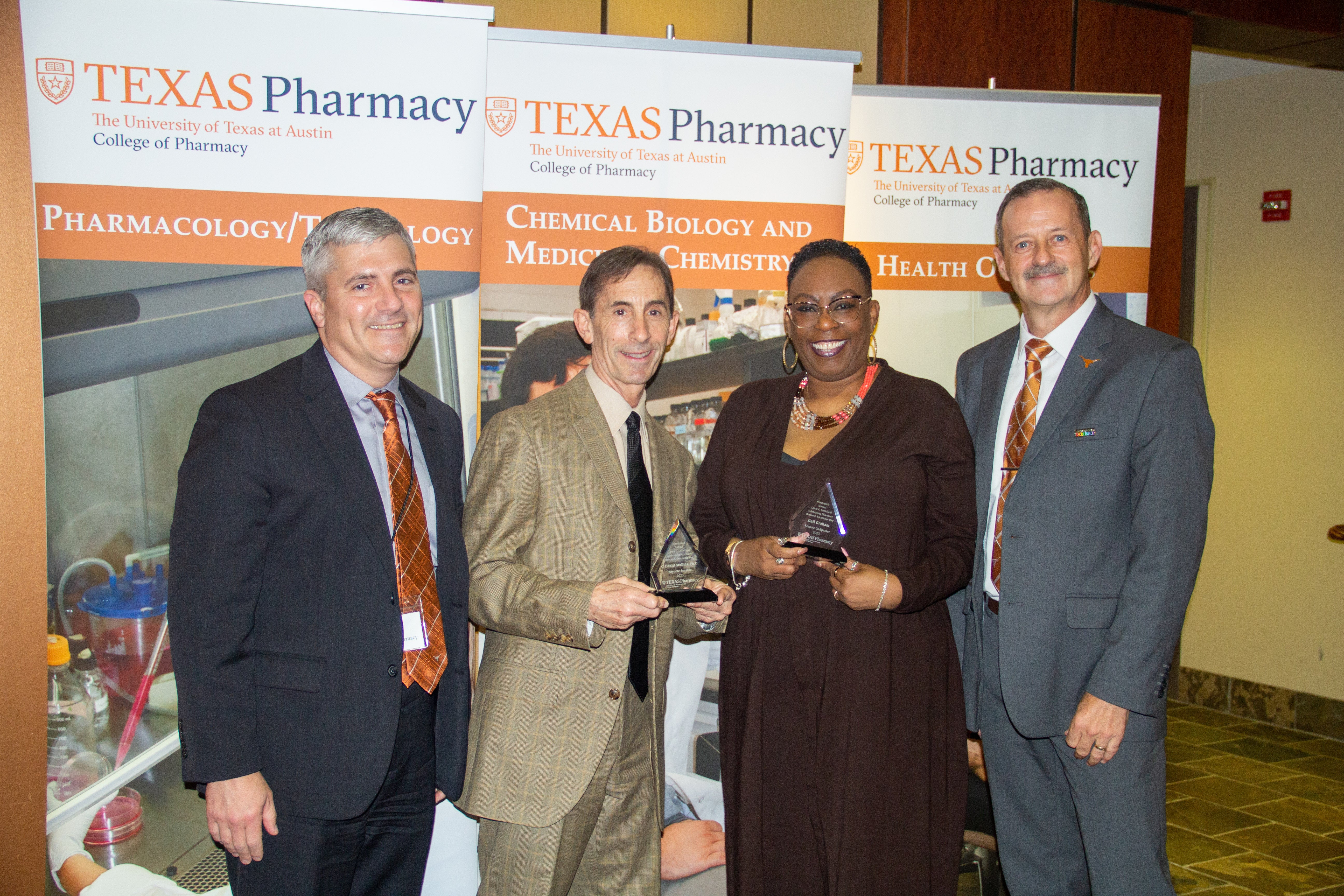 The day began with a keynote scientific lecture 'Community-Engaged Research From Guinea Pigs to Patients Professors' from C. Daniel Mullins, Ph.D. Dr. Mullins is Professor in the Department of Practice, Sciences, and Health Outcomes Research at the University of Maryland School of Pharmacy. He was joined by Co-Speaker Gail Graham, Stakeholder Advisory Board Member and Patients Professor. 
The event also included a distinguished faculty lecture from John DiGiovanni, Ph.D., Professor of Pharmacology & Toxicology in the College of Pharmacy, and Coulter R. Sublett Chair/Director of CMCT. DiGiovanni's presentation was titled 'Mechanism-Based Approaches for Breaking The Obesity-Cancer Link'.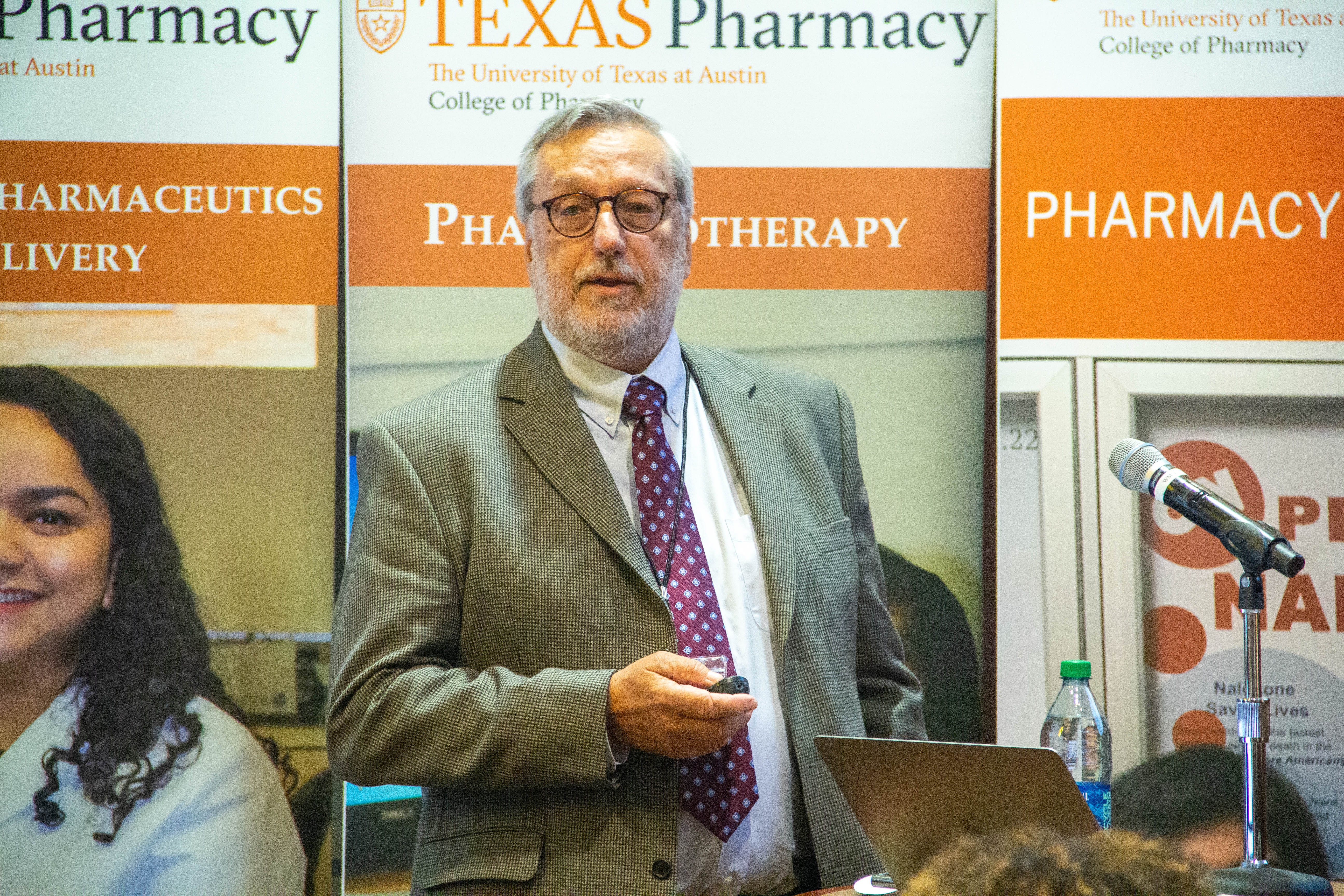 Abstract winners shared their current research during a lunch-hour presentation leading into the afternoon scientific poster session. The floor was buzzing with energy and excitement, opening up for attendees and colleagues to learn more about the poster presentations and talk to the presenters about their work.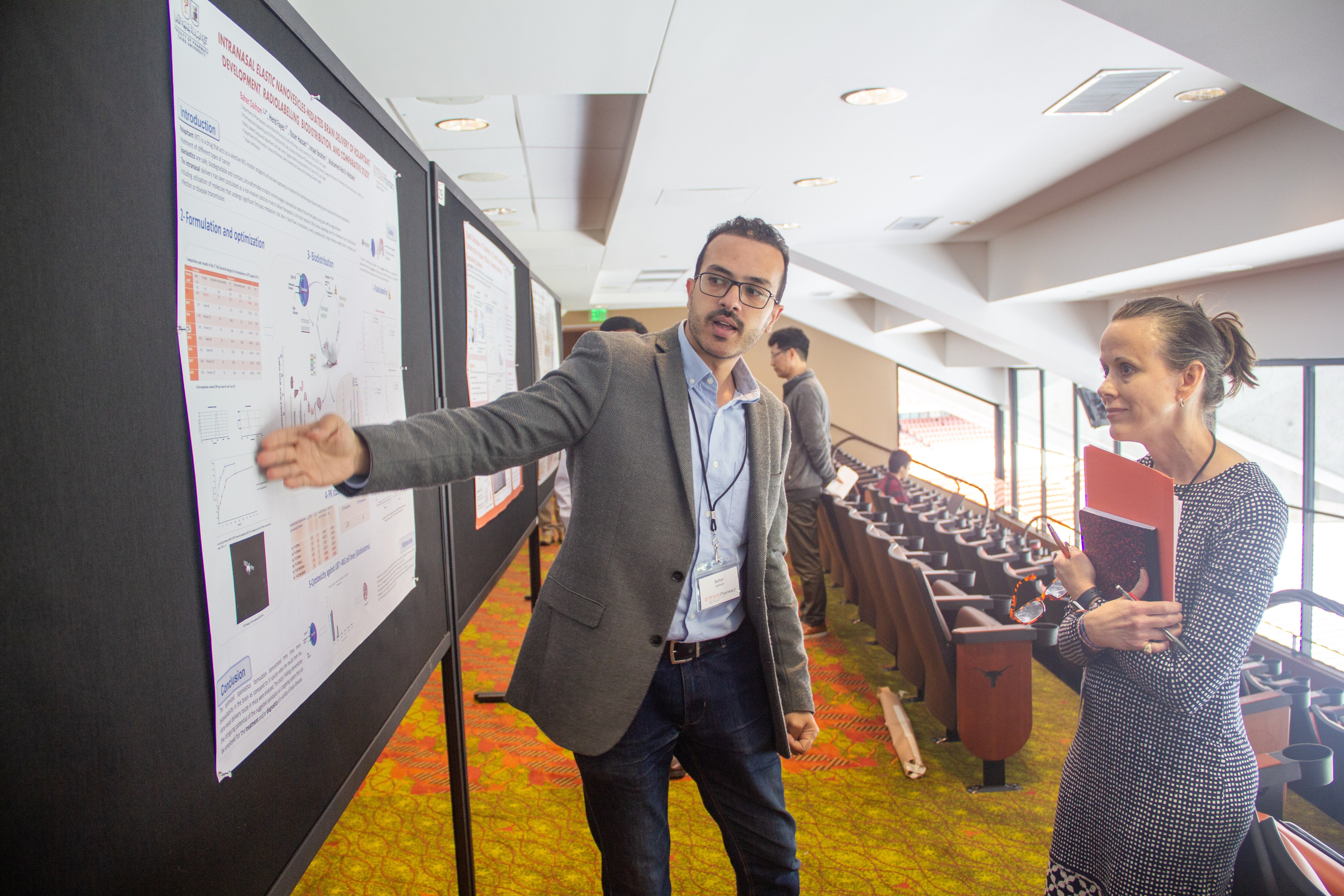 2023 Abstract Award Winners
Pharm.D. Professional Program:  
Esther L. Albuquerque  
"PHARM.D. ACADEMIC SUCCESS: FINDING SIGNIFICANT INDICATORS TO IMPACT FUTURE STUDENTS"
Mentor: W. Renee' Acosta, R.Ph., M.S.
---
Undergraduate Program:  
Krishi Manem  
"IMPLICATIONS OF TIME-RESTRICTED FEEDING ON NEUROINFLAMMATION AND BEHAVIORAL PATTERNS IN AGED MICE"
Mentors: Louise Ince, Ph.D., Laura Fonken, Ph.D
---
Graduate Program:  
Ryan Thompson  
"BLUTED ARBORIZATION OF IMMATURE NEUROS IN ADULT MALE AND FEMALE RAT HIPPOCAMPUS DURING REACTIVE NEUROGENESIS AFTER ALCOHOL DEPENDENCE"
Mentor: Kim Nixon, Ph.D.
---
Postdoctoral Program:  
Santosh Bashyal, Ph.D.   
"SPATIAL DISTRIBUTION OF CROSSLINKING IN 3D PRINTED CONSTRUCTS: ENHANCING THE ANTICANCER EFFICACY OF DOXORUBICIN-LOADED PH-RESPONSIVENESS LIPOSOMES"
Mentor: Mohammad Maniruzzaman, Ph.D.
---
Resident Program:  
Morgan Kimball/Kari Tornes  
"MODERATE VERSUS HIGH DOSE PHENOBARBITAL FOR THE PREVENTION OF COMPLICATED ALCOHOL WITHDRAWAL IN THE EMERGENCY DEPARTMENT"
Mentors: Amanda Fowler, PharmD., BCPS, Luke Neff, Pharm. D., BCPS
---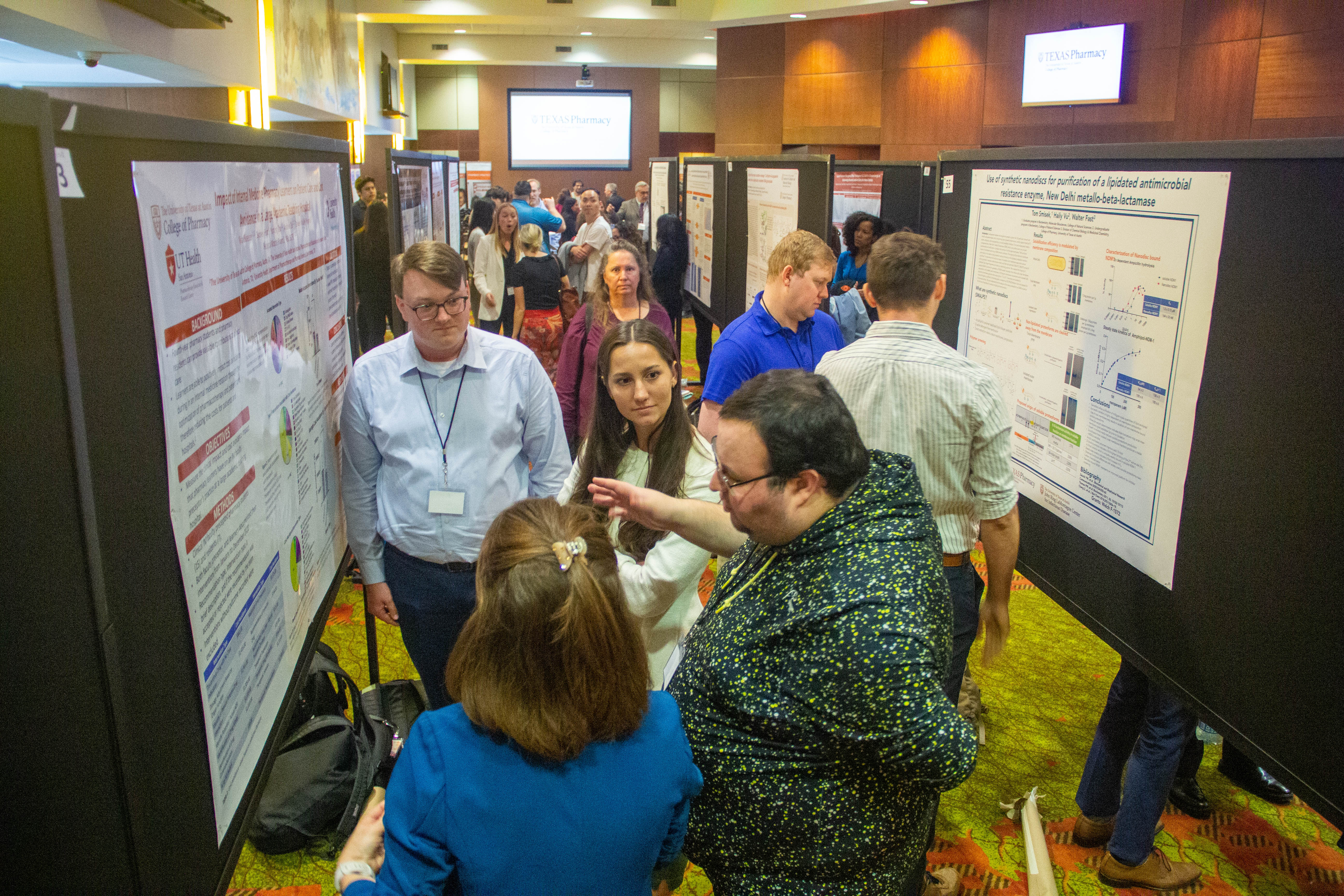 2023 Poster Award Winners
Pharm.D. Professional Program:  
Patrick Mireles  
"GALANIN RECEPTOR ANTAGONISTS ALLEVIATE OBESITY-RELATED NON-ALCOHOLIC FATTY LIVER DISEASE"
Mentor: Sharon DeMorrow, Ph.D.
---
Undergraduate Program:  
Anusha A. Dabak  
"THE CIRCADIAN CLOCK IN MICROGLIA INCREASES NEUROINFLAMMATION"
Mentors: Louise Ince, Ph.D., Laura Fonken, Ph.D.
---
Graduate Program:  
Kimberly J. Long  
"ADP ENHANCES THE ALLOSTERIC ACTIVATION OF EUKARYOTIC ELONGATION FACTOR 2 KINASE BY CALMODULIN"
Mentor: Kevin Dalby, Ph.D.
---
Postdoctoral Program:  
Christy Lite Samuel, Ph.D.  
"PERTIBULAR MACROPHAGE POLARITY AND SPERMATOGONIAL STEM CELL DYNAMICS IN AN ACUTE SERTOLI CELL TOXICANT-INDUCED TESTICULAR INJURY MODEL"  
 
Mentor: John H. Richburg, Ph.D.
---
Resident Program:  
Rose Zeng, Pharm.D.  
"VANCOMYCIN DOSING IN PEDIATRIC PATIENTS: OBESE VS. OVERWEIGHT VS. NORMAL WEIGHT"
Mentors: Sarah Kubes, Jessica Martinez, Lauren Williams, (all Pharm.D.)
---
If you missed this event, please visit the Research Day website to access/download the PDF program that includes the event itinerary and listing of trainee abstract award speakers, the Keynote and Distinguished Faculty speakers and a complete listing of the abstracts. 
A special thank you to all of the faculty, staff and participants who made Research Excellence Day possible, including its namesake "Cliff" Louis Littlefield.