The Mission of The University of Texas at Austin College of Pharmacy, Office of Continuing Pharmacy Education is to develop and deliver quality continuing education activities that meet the life-long professional development needs of pharmacy audiences. We also support programs with CPE accreditation services and activity development support.
Continuing Pharmacy Education Programs & Services
Our program involves coming to a specific site for a set number of hours to listen to a series of speakers on predetermined topics.
Participants are required to fill out a program evaluation form and attend all portions of the program for which they would like to receive continuing education credit.

 
Our objective is to update pharmacists' knowledge of current concepts in pharmacy at their own pace, without having to attend a live event.
Each course consists of written material covering a given subject, along with a post-test. Some home study courses also include an audio and/or a visual aid.
 
Our office routinely accepts requests from organizations (Joint Providers) seeking accreditation for educational/ training activities for pharmacists and technicians.
Each activity is thoroughly evaluated to ensure it is aligned with UT CPE's mission and that it meets ACPE Standards.
Assistant Director of Continuing Education

Continuing Education Program Coordinator
Contact Us
Due to COVID-19 restrictions, we are only available by email. We apologize for the inconvenience. 
Frequently Asked Questions
How many hours of CE do I need to maintain my license?
The amount of continuing education (CE) hours required to renew a Texas pharmacist license is 30 every two years.
If you have any questions regarding these requirements, please refer to the TSBP web site.
How do I know if a CE program is ACPE-accredited?
To determine if a program is accredited by ACPE, look for the ACPE logo and a fourteen digit program number on information brochures regarding the program. If the program number is followed by a "P", it is accredited for pharmacists. If the program number is followed by a "T", it is approved for Technicians.
Do I need a specific type of CE credit each year to maintain my license in Texas?
All 30 hours of CE must be ACPE-accredited, but it is not required that the CE be topic specific, such as AIDS-related, or medium specific shuch as live or home study.
What should I do with the CE certificate that I receive?
You should keep the certificate in your records at home. However, if you should misplace it, the accredited body that you received your certificate from is required to maintain those records for five years.
Are all the programs offered by The University of Texas College of Pharmacy approved for CE credit in Texas?
Yes. In addition, all the programs offered are accredited by The Accreditation Council for Pharmacy Education (ACPE).
What does ACPE-accredited CE mean to me?
ACPE is the national accrediting agency for pharmacy continuing education. ACPE assures the quality of continuing pharmacy education programs by evaluating the providers of CE and by monitoring the quality of their educational activities. ACPE also provides a basis for uniform acceptance of CE credits among the states. For maintaining a Texas pharmacy license, all 30 hours of continuing education credit must be provided by an ACPE-approved provider. The University of Texas College of Pharmacy is an ACPE-approved provider.
Other Questions?
If you have additional questions, please call The University of Texas College of Pharmacy, Continuing Education Office at 512-471-6213 or the Texas State Board of Pharmacy, Compliance Division, 512-305-8000.
What is Continuing Professional Development?
Continuing Professional Development (CPD) is an approach to lifelong learning being discussed as a potential model for pharmacists in the United States. CPD does not replace continuing education (CE), but CE will be an essential component of CPD. Its purpose is to ensure that pharmacists maintain their knowledge, skills, and competencies to practice throughout their careers in their specific area of practice, to improve the pharmacist's personal performance, and ultimately to improve patient and public health outcomes.
Evidence is mounting that traditional methods of CE do not adequately meet the lifelong learning and professional development needs of health care professionals and are not always successful in affecting practice behavior and improving patient outcomes. The Institute of Medicine has concluded that the current education and training of health care professionals is in need of a major overhaul. CPD, which is based on sound principles and adopts educational strategies that have been shown to be effective, potentially offers a quality improvement to the current systems for pharmacist CE.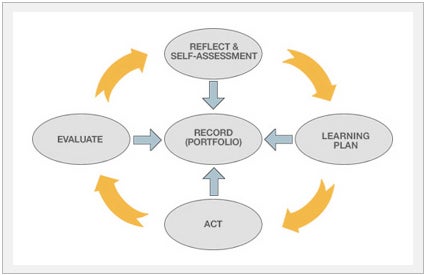 Continuing Professional Development essentially involves a cycle in which individual practitioners reflect on their practice and make self-assessments of their knowledge and skills, identify learning needs in order to create a personal learning plan, implement or act on the plan, then evaluate the effectiveness of the plan in relation to their practice. Documentation and recording each step is an integral aspect of CPD, and a personal portfolio is used for this purpose. The five-step cycle shown here illustrates how all the steps relate to each other.
Most pharmacists will agree that they are already following the cycle to some degree, when tackling the requirement of continuing education. For instance, the typical CE learning activity would fit in as implementing or acting on the plan a pharmacist has developed to meet their learning needs. However, the step anticipated to have the most impact on pharmacists will be the self-recording of information by the use of a portfolio, because it is not a step they are accustomed to. This is where future efforts will likely be focused when educating and training pharmacists on the implementation of CPD.
In summary, it appears that the field of pharmacy will eventually see a change in the existing system for pharmacist CE in an effort to meet lifelong learning and professional development needs and to improve patient outcomes. The change, likely to follow the framework of CPD, may not be seen as necessary by all stakeholders. While CPD appears logical and straightforward as a concept, if adopted, implementation will certainly bring challenges.
Please continue to visit this site for the latest information on how The University of Texas College of Pharmacy & the Pharmacy Continuing Education Office plans to incorporate CPD in their mission to providing quality pharmacy continuing education.
Board of Pharmaceutical Specialties
Learn how to become board certified in:
Psychiatric Pharmacy
Pharmacotherapy
Oncology Pharmacy
Nuclear Pharmacy
Nutrition Support Pharmacy
National Association of Boards of Pharmacy (NABP)
Link to NABP Monitor System for CPE credits:
Login to your eProfile
Set up your eProfile
Check your CPE credits
Learn about the accreditation process for the Schools of Pharmacy and continuing education providers.

The University of Texas at Austin College of Pharmacy is accredited by the Accreditation Council for Pharmacy Education as a provider of continuing pharmacy education.