What Is A Pharmacist?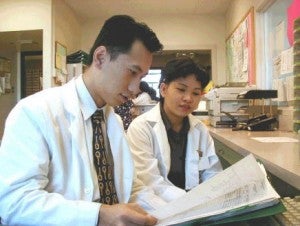 Take a moment to learn what a pharmacist is and what they can do in this profession.  You will discover from the following sources that pharmacists are on the front lines with patient care and can be found in many practice settings from general to specialized areas.  For some of you this will be an eye-opening discovery!
Let's start with an article in U.S. News & World Report, "How to Become a Pharmacist".
Training Programs for Promoting Inclusive Excellence
The UT Austin College of Pharmacy aims to cultivate a culture of care for every individual within our college and the communities we serve.  The College has multiple programs that demonstrate a commitment to providing a supportive and collaborative approach to student and trainee success by creating greater opportunities for individuals from underrepresented and undersupported communities.
PEPP Camp - Project Engage Pharmacy Program
Visit our DEAI Training Programs page to learn more.
Is Pharmacy right for me?
Learn about the history and profession of pharmacy
Discover new practice settings for pharmacists
Find a roadmap to becoming a pharmacist
Understand the admissions requirements for getting into pharmacy schools
Find resources, opportunities, and blogs
What do Pharmacists do?
    Mission
    Many hats of a pharmacist
    Expert advice on medications
    Dispersing healthier outcomes
How do Pharmacists work?
    What do pharmacist do?
    Job outlook
    Pay
    Work environment
What's the demand for Pharmacists?
Report(s) provide a measurement of pharmacist demand in the U.S.