What Starts Here Changes the World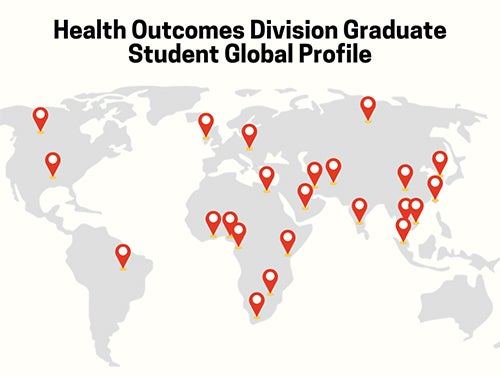 Our graduate students are from all over the world, and their research is changing the world!
HOD is home to the next generation of health outcomes researchers. Our graduate students are from all over the world and bring diversity in culture, thought, and research to the division. Our graduate program is strengthened by a worldview of unique perspectives, and it produces graduates who can navigate in global environments.
HOD has 25-30 graduate students and fellows who work collaboratively with faculty, clinicians, and industry, as well as other graduate students, to conduct research in a broad range of health economics and outcomes projects, as well as projects directly focused on patient care. Students present these transformative projects at national and international meetings.  
Selected research posters from these conferences can be accessed below.
Training Programs
The UT Austin College of Pharmacy is committed to ensuring that aspiring Pharmacy Longhorns from all backgrounds have equal access to the college through intentional outreach and engagement efforts. The college has multiple programs that demonstrate a commitment to providing a supportive and collaborative approach to student and trainee success.
Visit our Training Programs page to learn more.
Current Graduate Students
Health Economics and Health Outcomes Research Fellowship:
Baylor Scott & White Health, in conjunction with the University of Texas (UT) College of Pharmacy, offers a two-year fellowship to prepare talented individuals with a strong interest in pursuing a career in Health Economics & Outcomes Research (HEOR) for positions in areas including managed care, the pharmaceutical industry, consulting and academia.
Current Postdoctoral Researchers

Advising Professor: Dr. Anton Avanceña
Education:
Ph.D., Pharmacotherapy Outcomes Research and Health Policy, University of Utah College of Pharmacy 
M.P.H, Boston University School of Public Health 
B.A., Neuroscience, Boston University

Advising Professor: Dr. Chanhyun Park
Education:
Ph.D., Pusan National University
Pharm.D., Pusan National University

Advising Professor: Dr. Leticia Moczygemba
Education:
Ph.D., The University of Texas at Austin, 2023
MSN, The University of Texas at Austin, 2019
BSN, University of Washington-Bothell, 2016
AND, Bellevue College, 2009
Current Visiting Scholars

Advising Professor: Dr. Chanhyun Park
Education:
M.S. Pharmaceutical Economics, Big Data Analytics & Policy, Kyung Hee University
Pharm.D., Kyungsung University

Advising Professor: Dr. Chanhyun Park
Education:
M.S. Regulatory Science, Kyung Hee University
Pharm.D., Pusan National University