What Starts Here Changes the World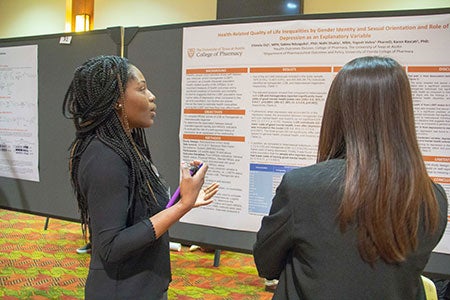 Graduate education, research, and scholarly work leading to the Master of Science and Doctor of Philosophy degrees from this division are designed to assist the student in attaining the highest level of professional and academic competence in the field of Health Outcomes.
The objective of the graduate program in Health Outcomes is to prepare the graduate for the numerous opportunities in the economic, social, administrative, and clinical practice sciences related to pharmacy. 
The program is designed to meet the specific needs and objectives of the student in addition to providing a foundation of coursework, which is required of every graduate student seeking the degree.  In addition to the core coursework, students select a minor field to develop additional expertise in an area related to Health Outcomes.
Eligibility:
Students entering our program have a baccalaureate or Pharm.D. degree in pharmacy, or a baccalaureate or higher degree in a discipline such as public health, business, or other relevant areas.  Practice experience, pharmaceutical industry experience, or other relevant experience is encouraged.
Health Economics and Health Outcomes Research Fellowship:
Baylor Scott & White Health, in conjunction with the University of Texas (UT) College of Pharmacy, offers a two-year fellowship to prepare talented individuals with a strong interest in pursuing a career in Health Economics & Outcomes Research (HEOR) for positions in areas including managed care, the pharmaceutical industry, consulting and academia.
Degree Details
Student Handbook
Please consult the Health Outcomes Division Guide to Graduate Study for additional information regarding admissions, degree progression, and important forms.
Student Resources
Academic/Professional Resources
Graduate students at The University of Texas at Austin have access to a wealth of resources to support their academic endeavors, including the University Writing Center, UT Libraries, professional organizations, and career resources.
 
Wellness Resources
The University of Texas at Austin offers a variety of health and wellness resources to graduate students, including the Counseling and Mental Health Center and Recreational Sports.