Chemical Biology and Medicinal Chemistry emphasize the study of chemical and biochemical rationales for the design and development of drugs. They draw from a spectrum of sciences, including analytical chemistry, biochemistry, molecular biology, organic chemistry, and pharmacology through the application of modern techniques from structural chemistry, biotechnology, and molecular biology.
Mission
Building on the rich history of enzymology and bioorganic chemistry, our students develop novel techniques and small molecule tools to understand health and disease at the level of chemical mechanisms.
Career Opportunities
Ph.D. chemical biologists and medicinal chemists find rewarding careers in all sectors of the scientific community. Salaries and advancement opportunities compare favorably with graduates in other biochemical and pharmaceutical sciences. Recent graduates from our program have assumed positions at academic institutions, medical schools, the Food and Drug Administration and in pharmaceutical industry.
Division Research
At The University of Texas at Austin, a rational target-oriented approach to drug design and development is employed. We utilize physical techniques such as molecular modeling, high field NMR, and the use of molecular targets (such as enzymes and receptors) available through recombinant DNA techniques. We have elected to concentrate in two main areas that interface medicinal chemistry: (1) molecular biology/biotechnology; and (2) structural chemistry.
Present faculty associated with our graduate program are actively involved in research programs that include the following: drug-nucleic acid interactions, biotechnology, microbial transformations, microbial enzymology, neurotransmitter enzymology and metabolism, and synthetic medicinal chemistry. The broad background of our graduate students helps them meet the challenges of research careers in academia, industry, and government.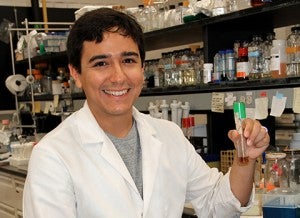 Our unique curriculum provides students with a broad foundation of knowledge ranging from molecular biology to organic chemistry, with particular emphasis on pharmaceutical chemistry. Students are introduced to research in the laboratories of our world-class faculty members through a series of rotations, and learn a variety of different techniques while exploring different approaches to science. Individual faculty interests are described online and incorporate the timely themes of drug design, biotechnology, enzyme mechanisms, glycobiology and bioorganic chemistry.
Visit the degree requirements page for details about the curriculum and division-specific requirements.
Applicants should hold a baccalaureate degree in a discipline such as pharmacy, chemistry, biochemistry or biology. This training should include the following coursework: two semesters each of calculus, organic chemistry, and pharmaceutical or biological sciences and one semester of physical chemistry.
Additional details about eligibility and admissions can be found on the Research & Graduate Studies site.
News
May 2020:  Congratulations to the Liu lab for characterization of coformycin biosynthesis (PNAS).
Spring 2020:  Spring 2020 publications from the division.
May 2020:  Kudos to our faculty that won 2020 teaching awards!  Dr. Whitman (Winner of Class of 2023 Teaching Excellence Award) & Dr. Davis (Winner Class of 2021 Teaching Excellence Award).  Both were also nominees for Pharmacy Educator of the Year.  Well deserved!
March 2020:  A wet-lab "pause" to slow COVID-19 – Stay Healthy!
March 2020:  Congrats to undergrads Samuel Lin, Andrew Ta (Lee lab) and Ryan Coops (Fast Lab) for winning Spring 2020 Undergraduate Research Fellowships.
Jan 2020: 
Congrats to Kate Vilas (Lee lab) for her F31 NIH Fellowship studying the molecular impact of anti-cancer chemotherapy!
Jan 2020:  Welcome to our newest faculty member:  Adjunct Professor John Kozarich!
Fall 2019:  Fall 2019 publications from the division – Kudos!
Sept 2019:  Welcome to our newest faculty member:  Prof. Kun Yang!
Summer 2019:  Summer 2019 publications from the division – Kudos!
Administrative Program and Division Coordinator, Chemical Biology & Medicinal Chemistry
Division Head and Professor of Chemical Biology & Medicinal Chemistry

William I. Dismukes Fellow in Pharmacy