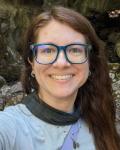 Katerine E. Getchell, PharmD, BCACP
Clinical Pharmacy Manager, Temple/Waco/Rural PACT
Residency Program Director for Pharmacy PGY1
Clinic phone: (254) 743-0438
Email: katerine.getchell@va.gov 
Mailing address and fax:
Central Texas Veterans Health Care System
Pharmacy Service (119T)
1901 Veterans Memorial Drive
Temple, TX 76504
Fax: (254) 743-0020**
The ASHP-accredited PGY-1 Pharmacy Residency at the VA Central Texas Healthcare System provides experiences in a broad array of clinical inpatient and outpatient pharmacy practice areas. 
Core Learning Experiences:
Block:

Primary Care (8-16 weeks)

Anticoagulation (4 weeks)

Internal Medicine (4 weeks)

Pharmacy Benefits Management (4 weeks)

Practice Management (2-4 weeks)

Outpatient Pharmacy Operations (4 weeks)

Inpatient Pharmacy Operations (4 weeks)

Longitudinal (12 months):

Education & Academia

Pharmacy Leadership 
Elective rotations are also available in hematology/oncology, psychiatry (inpatient and outpatient), geriatrics, critical care, infectious disease, emergency department, cardiology, and home-based primary care. Residents present formal lectures, patient cases, journal clubs, teach pharmacy students, and serve as the principal investigator on a residency project. Completion of a residency project is required with the option of to conduct a research or quality improvement project. Additionally, the residents manage the electronic drug information service, trainee conferences, newsletters, continuing education program, drug recalls, resident graduate tracking, and adverse drug event reporting for Pharmacy Service. Participation in the UT Pharmacotherapy Rounds is required, and the opportunity for completion of the Teaching and Leadership Fellows Program is available. Upon successful TLFP completion, a certificate is awarded at the end of the year. Residents staff an average of one weekend per month and up to 4 holidays per year in a patient discharge/transitions of care role.
VA Core Values: "I CARE"
Integrity, Commitment, Advocacy, Respect, Excellence
The Central Texas Veterans Health Care System (CTVHCS), accredited by the Joint Commission, is comprised of 11 locations serving central Texas. Our hospitals are the Olin E. Teague Veterans Medical Center in Temple and the Doris Miller VA Medical Center in Waco. We also operate a stand-alone multispecialty clinic in Austin, and 8 community-based outpatient clinics in Brownwood, Cedar Park, College Station, Copperas Cove, Killeen, Palestine, La Grange, and Temple. VA Central Texas health care serves more than 252,000 Veterans in 39 counties with a service area covering over 35,000 square miles and 10 congressional districts. In 2022, CTVHCS treated 116,359 Veterans, registered 5,393 inpatient admissions and completed more than 1.3 million outpatient visits.
CTVHCS provides a full range of services including medical, surgical, psychiatric, and rehabilitation with inpatient medical/surgical hospital beds, a hospice unit, and community living center (CLC) beds.
The Department of Pharmacy at the CTVHCS offers a wide range of clinical pharmacy services provided by clinical pharmacists and clinical pharmacist practitioners. CTVHCS is affiliated with the University of Texas College of Pharmacy, Texas A&M University Colleges of Medicine and Pharmacy, and the University of Houston College of Pharmacy. Many clinical pharmacist practitioners working under an approved scope of practice function as medication prescribers in ambulatory care clinics. Clinical pharmacist practitioner-run ambulatory care clinics at CTVHCS include primary care, psychiatry, anticoagulation, heart failure, and hepatology. The resident continuously interacts with staff throughout the hospital to contribute to the delivery of direct patient care. Additionally, residents engage in supportive interaction with colleagues through participation in journal club, case discussion sessions, and our continuing education programs. Through our collaboration with The University of Texas at Austin College of Pharmacy, all residents have many teaching opportunities at the hospital and may have other opportunities at UT during the residency year.
The resident is an employee of The Department of Veterans Affairs, directly responsible to the Chief, Pharmacy Service. Daily guidance and supervision will be provided by direct preceptors and the Residency Program Director. Residents will be supported in pursuing further post-graduate training or employment opportunities. A national database is available to assist residents who may be interested in VA PGY-2 residencies or pharmacy positions. Past residents accepted positions in health systems, academia, and PGY2 residencies. CTVHCS has retained at least one resident per year into PGY2 or pharmacist positions.
The University of Texas at Austin and its affiliated institutions are an Equal Opportunity/Affirmative Action Employer. Qualified women and minorities are encouraged to apply. Security sensitive; conviction verification conducted on applicant selected. Matched applicants may also be selected to undergo random drug testing per VA policy.
Residency Details
Location
Temple-Waco-Austin, Texas
Stipend
Competitive salary plus benefits (some paid federal holidays; 13 paid days each of annual and sick leave; health insurance; travel support for ASHP Midyear and TSHP ALCALDE conferences)
Requirements
Graduate of an ACPE-accredited college of pharmacy (Please note, per National VA Policy, colleges of pharmacy must be FULLY ACCREDITED at the time of application; unfortunately applicants from candidate status colleges of pharmacy are not eligible)

U.S. citizen

Licensure in any state upon earliest eligibility (must attempt licensure by September 1st, must be licensed by October 31st)

Submission of CV, letter of interest, transcripts (unofficial copies for undergrad/pre-pharmacy OK), and ONLY 3 templated letters of recommendation via PHORCAS/WebAdmit.