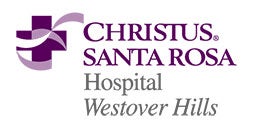 CHRISTUS Santa Rosa Westover Hills
11212 State Highway 151
San Antonio, Texas 78251
David Chan, PharmD, MBA
Director of Pharmacy
Interim Pharmacy Residency Program Director
david.chan2@christushealth.org 

The PGY-1 pharmacy residency programs build on Doctor of Pharmacy (Pharm.D.) education and outcomes to contribute to the development of clinical pharmacists responsible for medication-related care of patients with a wide range of conditions, eligible for board certification, and eligible for postgraduate year two (PGY-2) pharmacy residency training.
The PGY-1 residency program at CHRISTUS Santa Rosa – Westover Hills is designed to provide a wide range of clinical experiences with a focus on inpatient acute care in a community hospital setting. The program is affiliated with the University of Texas at Austin – College of Pharmacy, through which, residents will have the opportunity to obtain a teaching certificate.
For additional information, please refer to the CHRISTUS Santa Rosa – Westover Hills Pharmacy Residency website.
Residency Details
PhORCAS Application Deadline
Requirements
Doctor of Pharmacy Degree from an ACPE accredited pharmacy school
Complete institutional Human Resource pre-employment screening process
A strong interest in clinical hospital pharmacy practice
Stipends and Benefits
Lab coat with embroidered name
Desk space with a personal computer
Medical, dental, and life insurance options