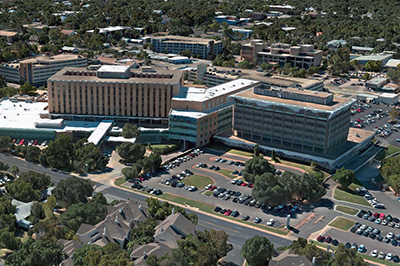 Tamara B. Knight, Pharm.D., BCPS
PGY1 Residency Program Director
Dell Seton Medical Center at the University of Texas
Department of Pharmacy
1500 Red River Street
Austin, Texas 78701
Email: TBKnight@ascension.org
Ascension Seton Family of Hospitals, in conjunction with The University of Texas at Austin College of Pharmacy, is offering an ASHP accredited Post Graduate Year 1 (PGY1) pharmacy residency. The PGY1 pharmacy residency is a 12 month program designed to expose residents to a rich clinical environment in which they experience concentrated yet diverse training in a variety of pharmacy practice areas.
At the completion of the program, the resident will be prepared to function, with confidence, as a general clinical practitioner in an acute care setting. As an American Society of Health-System Pharmacists (ASHP) accredited PGY1 program, the graduate will also be prepared to pursue a PGY2 residency.
Residency Details
Stipend
Competitive salary plus an attractive benefits package (resident stipend for 2018-2019 is $47,000)
Eligibility
Doctor of Pharmacy Degree from an accredited school or college of pharmacy or have a Foreign Pharmacy Graduate Equivalency
Committee (FPGEC) certificate
Texas licensure by Aug. 1

Enrollment in the ASHP Residency Match Program
Resident Learning Experience
The primary base for the residency program is at Dell Seton Medical Center at The University of Texas (a teaching hospital) but residents have the opportunity to complete rotations at four of our community hospitals and our pediatric hospital.
Residents complete 12 one month rotations (including orientation). After completing the orientation month, residents are offered the following experiences:
Remote Patient Monitoring and Transitions of Care
While most rotations offered are inpatient experiences, the oncology and cardiac transplant rotations offer exposure to both inpatient and ambulatory care patients. Research, academics and staffing are required longitudinal experiences. The resident will complete an original research project suitable for presentation at a national meeting and present a seminar to faculty and fellow residents at the College of Pharmacy. The resident will aid in proctoring a small group pharmacotherapy lab.
An Academic Training Certificate Program is conducted for residents affiliated with the University of Texas in order to strengthen the resident's teaching skills. The resident will receive an Instructor of Clinical Pharmacy appointment in the Division of Pharmacy Practice. A residency certificate will be awarded upon satisfactory completion of the program.
Guidelines for Application
Application deadline is Jan. 1, 2020. All materials must be received by the deadline in order to be considered for an on-site interview. Applications must be completed through the WebAdMIT/PhORCAS system. Completed applications include:
Official college of pharmacy transcripts
Three references completed in PhORCAS
Information for reference writers: We ask that the reference writers complete the four questions that are optional in PhORCAS and include the same quantity and quality of information that they would normally include in a traditional letter of recommendation in their responses to these questions.
For additional information please visit our website for Pharmacy Residency Programs.