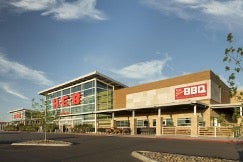 For inquiries and questions, please contact :
Dr. Amanda Stallings at amanda.stallings@austin.utexas.edu
Residency Program Director
Now with Sites in Austin and San Antonio, TX!
Since July 2020, the H-E-B Pharmacy/University of Texas PGY-1 Community Pharmacy Residency Program has had 4 positions available in Austin and 2 positions available in San Antonio. The residency remains as 1 program. There is 1 application and 1 interview process. We have 2 Match numbers (see below), therefore, resident candidates can rank each location independently depending on location choice.
About
The H-E-B/University of Texas at Austin College of Pharmacy Community Pharmacy Residency Program was established in 2008 and is accredited by the American Society of Health-System Pharmacists, in partnership with the American Pharmacists Association (re-accredited for a full 6-year term in 2016).
The residency program is designed and conducted in a manner that supports residents in achieving the program purpose and the required educational competency areas, goals, and objectives described in the remainder of the standards.
Learn More About the Program