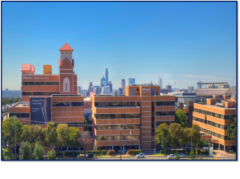 DeeDee Hu, PharmD, MBA
PGY1 Residency Program Director
Pharmacy Clinical Manager
St. David's Medical Center
Department of Pharmacy
919 E. 32nd Street
Austin, Texas 78705
Email: Deedee.Hu@stdavids.com
St. David's Medical Center (SDMC) provides the resident with a solid foundation in acute patient care. Learning experiences include: Hospital Pharmacy Practice, Internal Medicine, Neonatal Intensive Care, Critical Care, Residency Research Project, Antimicrobial Stewardship, Pharmacy Administration and Management, and Academic Teaching Certificate. Pharmacy residents have the opportunity to present their research project at the ASHP midyear meeting, the TSHP Alcalde meeting and the Celebrating Pharmacy Research Excellence Day at University of Texas.
SDMC includes a 350-bed acute care hospital and a 64- bed rehabilitation hospital providing comprehensive inpatient and outpatient care. It is home to the internationally renowned Texas Cardiac Arrhythmia Institute and St. David's Neuroscience & Spine Institute. The hospital provides a complete range of women's services, has the region's largest and most sophisticated Level IV Neonatal Intensive Care Unit, a comprehensive Bariatric Surgery Center, and a 24- hour emergency department. St. David's Healthcare is ranked 15th in Thomas Reuters ranking of healthcare systems and was awarded the Malcolm Baldrige National Quality Award in 2014. St. David's is voted annually as one of the best places to work in the Austin American Statesman newspaper.
SDMC has an affiliation with the University of Texas College of Pharmacy, which provides opportunities to earn a teaching certificate, lead group discussions, conduct research, lecture large classes and participate in residency rounds presentations. SDMC pharmacists precept University of Texas IPPE and APPE pharmacy students.
Residency Details
Requirements
Pharm.D. degree from an ACPE-accredited institution
Minimum of 3.0 GPA
Eligible for Texas licensure
A strong desire to strengthen their clinical, academic, research, and leadership skills.
Stipend
Residents will receive a competitive salary of $48,000 plus excellent employee benefits. Residents will also receive support to attend national and state pharmacy association meetings.