Audie L. Murphy Division in conjunction with the University of Texas College of Pharmacy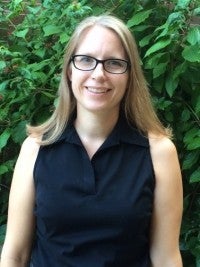 Rebecca Rottman-Sagebiel, Pharm.D., BCPS, BCGP
Program Director, PGY2 Geriatric Pharmacy Residency
South Texas Veterans Health Care System
7400 Merton Minter (119)
San Antonio, Texas 78229
(210) 617-5300 ext 15757
rebecca.rottman@va.gov
The PGY2 Geriatric Pharmacy Residency Program at the South Texas Veterans Health Care System is accredited by the American Society of Health-System Pharmacists. This comprehensive, post-doctoral clinical pharmacy training program is designed to build on Doctor of Pharmacy education and PGY1 pharmacy residency programs to contribute to the development of clinical pharmacy specialists in geriatrics. This residency program provides residents with opportunities to function independently as practitioners by conceptualizing and integrating accumulated experience and knowledge and incorporating both into the provision of patient care or other advanced practice settings. Residents who successfully complete this program are prepared for advanced patient care, academic or other specialized positions, along with board certification. Other intended outcomes of this residency program include the following: function as a member of interdisciplinary and multidisciplinary treatment teams providing complex patient care management to geriatric patients in a variety of health care setting (including geriatric primary care, long term care and acute care), serve as an educator for geriatric patients, family members, pharmacy students, and health care providers, exhibit leadership and management skills in a professional manner, display characteristics of professional and personal self-growth as a geriatric practitioner, and demonstrate the ability to proactively identify and meet opportunities available in the provision of pharmaceutical care to our aging population.
The South Texas Veterans Health Care System (STVHCS) is comprised of 2 divisions, Audie L. Murphy and Kerrville.  The Audie L. Murphy division is located in northwest San Antonio and provides primary, secondary, and tertiary health care in medicine, psychiatry, surgery, and rehabilitation medicine to serve the health care needs of area veterans. The Pharmacy Service offers 24-hour coverage, centralized unit-dose drug distribution (primary Omnicell), complete IV-admixture program, and clinical services. The hospital is located at  Audie L. Murphy division in addition to a Spinal Cord Injury Unit, Bone Marrow Transplant Unit, Polytrauma Unit and a Long Term Care Unit that primary focuses in rehabilitation and hospice care. The Kerrville Division has a Long Term Unit that provides rehabilitation, hospice, long-term care, dementia care and respite.
The STVHCS also has a very active Geriatric Education and Clinical Center on site.
The resident will actively participate in the activities of the Community Living Center (CLC) and Geriatric Evaluation and Management (GEM) Clinic. The CLC is a long-term care/rehabilitation facility devoted to the goal of restoring function to veterans. The CLC program operates with an interdisciplinary team that is composed of professionals from pharmacy, nursing, medicine, psychology, dietetics, social work, speech pathology, and rehabilitation services. Pharmacists are responsible for promoting appropriate cost-effective pharmacotherapy, obtaining medication histories, documenting medication reviews, and educating patients, caregivers, and other health care professionals. Within the GEM Clinic, a primary care clinic, pharmacy residents provide pharmaceutical care in areas including anticoagulation, diabetes, hypertension, coronary artery disease, and congestive heart failure. Other learning experiences available to complete core geriatric training include Home Based Primary Care, Palliative Care, Hospice, Acute Care Medicine and Transitions of Care.  Various electives are available and will be chosen based upon the resident's interests. The resident has an opportunity for participation in journal club and case discussion sessions with fellow residents, participation in Geriatrics, Gerontology and Palliative Care Grand Rounds, and other programs as deemed appropriate. Completion of a residency project is required.
The resident is an employee of The Department of Veterans Affairs, directly responsible to the Chief, Pharmacy Service. Daily guidance and supervision will be provided by the resident's program director, Dr. Rebecca Rottman-Sagebiel. An affiliated appointment as a Clinical Instructor at The University of Texas at Austin College of Pharmacy is available.
The University of Texas at Austin and its affiliated institutions are an Equal Opportunity/Affirmative Action Employer. Qualified women and minorities are encouraged to apply. Security sensitive; conviction verification conducted for an applicant selected.
Requirements
Pharm.D. degree from ACPE-accredited institution.
Eligible to practice pharmacy in at least one state.
Off-site rotations will require licensure in the state of Texas.
Selection is based on professional competence, scholastic achievement,
references, communication skills, and clinical practice and research interests.
Completion of an ASHP accredited PGY1 residency or ASHP approved waiver is required.
Stipend
Administrative leave available
Health insurance is available